Sport and Fitness at Derwen College Walford
Do you like keeping fit and being active? On our Sport and Fitness pathway you will learn a mix of theory and practical elements and gain valuable experience working in a gym environment.
Our team at Derwen College Walford, have well-established links with local gyms where students will have the opportunity to provide fitness consultations with the public, demonstrate safe use of the equipment and ensuring the gym floor complies with the high standard of hygiene and sanitisation.
On the Sport and Fitness pathway, as well as learning about various fitness activities and sports, you will also learn in-depth information about anatomy and the breakdown of the muscular and skeletal system of the human body, along with the cardiovascular and respiratory systems and how to safely strengthen, monitor and maintain the appropriate levels for each anatomical area.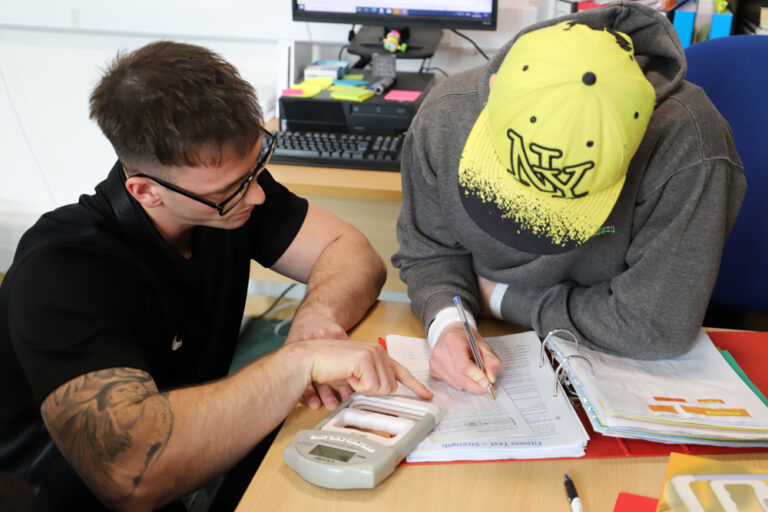 You will also learn about the range of equipment you might come across in a sport and fitness environment – and how each piece can be used effectively and safely.
This includes learning to identify pieces, how to assemble them, adjust settings and measure and record performance.
Other areas of learning that are covered include:
How to be an effective coach and how and why you should implement positive mentoring and good communication
The different types of both team and individual sports and the rules and regulations that accompany them
How to live a healthy lifestyle and the importance of nutrition. You will learn about different food groups, and effective hydration, and how to apply them into fitness regimes
How to execute fitness testing – how do you measure fitness? You will learn how to record, monitor and evaluate the results of fitness testing
How to design personal fitness plans and set achievable goals
Anatomy – Muscular, skeletal, cardiovascular & respiratory
Health and Safety – PPE, use of equipment, manual handling
Sport and Fitness students gain external work experience through our connections with local gyms and sports clubs.
Find out more about what it is like being a day student at Derwen College Walford – watch Rachel's video.
Keep up to date with the Derwen College Walford team on Twitter and Instagram.