Hospitality and Food pathway at our Gobowen site, near Oswestry

If you would like the opportunity to offer outstanding service and to make a difference to someone's day, then our Hospitality and Food pathway at Gobowen could be the course for you.
The hospitality and food industry can be very rewarding if you like to work hard and can maintain a positive attitude.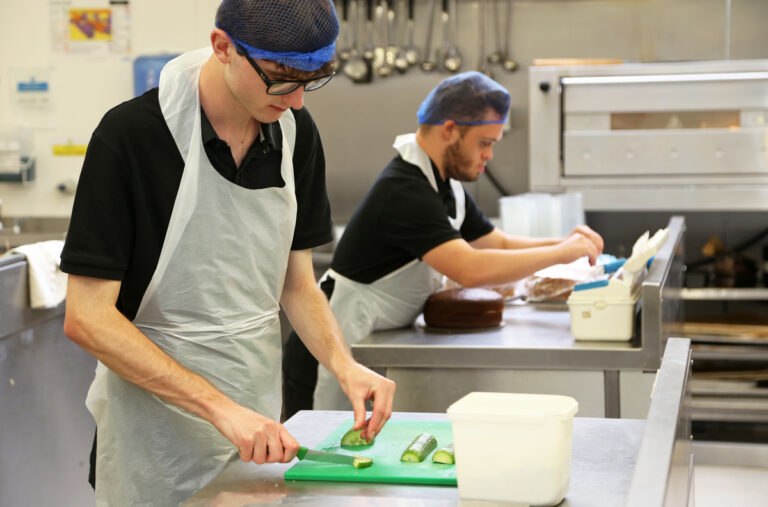 In your first year, you will have the opportunity to try your hand at everything. You can choose whether you want to be front of house, meeting and greeting guests, or if you prefer being behind the scenes, in housekeeping or learning skills in the kitchen preparing and making food.
We have some outstanding facilities for you to complete your training in. These include:
Commercial kitchen and bakery
Here you get to make different jams, chutneys, bread and baked goods plus much more. Attention to detail is important as you measure ingredients and monitor cooking times.
The Walled Garden Café and Orangery Restaurant
These are public-facing outlets where you will meet and greet customers, take orders, prepare and serve food, clean down and prepare for the following day. Do you enjoy being part of a team in a busy environment?
Hotel 751
Derwen College has its very own training hotel! And the training encompasses every aspect of any other hotel you might one day find yourself working in. You might like taking bookings and checking guests in and out, or you might enjoy cleaning the rooms and making sure everything is perfectly placed for the guests' arrival. Derwen College developed an award-winning app to help the students remember everything they need to do
You will need to wear a uniform to work in all these areas.
We have a good network of local restaurants, hotels, and cafés where you can progress on to external work placements.
Keep up to date with the Hospitality and Food pathway on Instagram, and on Derwen College's Facebook.