Horticulture at our Gobowen site, near Oswestry

If you like being hands-on, outside in the fresh air, and doing physical work, then you will love our Horticulture pathway.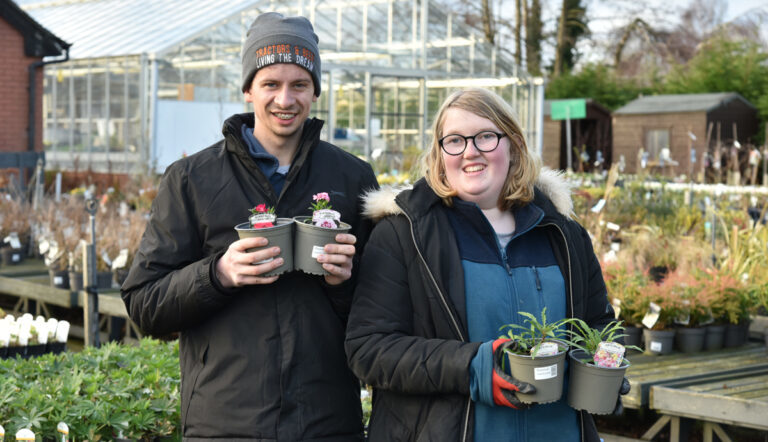 Based in the Derwen College Garden Centre area, you learn through a mix of classroom teaching along with hands-on practical tasks.
There are endless opportunities to explore the horticulture industry and you will gain valuable work experience in the public-facing garden centre.
Throughout the course, you will learn how to identify different plants and what they need to survive and grow.
You will learn about the different types of soil and their uses, along with how to weed and maintain garden beds, pot plants and create attractive displays.
You will need to be comfortable wearing protective clothing including steel toe-capped boots, and you will be taught how to safely use a variety of gardening tools.

"I have lots of fun in Horticulture. The staff are the best and I have made lots of friends – I love growing things and looking after the plants in the Garden Centre Shop – I hope to work in a Garden Centre Shop." Kian
It's important to like working outside as that's where you will spend a large amount of time – rain, hail or sunshine! And be prepared to put your hands in the soil and get dirty!
As well as the Garden Centre, there are a variety of greenhouses and a Walled Garden where you will be able to learn and develop your skills.
Our students get involved in a range of seasonal projects, whether it's growing seeds and plants and hanging baskets ready for summer, pruning trees and bushes in the autumn, or creating wreaths for Christmas.
There are external projects to get involved with too. For example, the local park in Oswestry have engaged our Horticulture students to provide and plant the flower beds ready for the Jubilee celebrations.
Our students also work in the Garden Centre shop, where they serve customers, organise and replenish Garden Centre stock.

"I want to work in a Wildlife Trust and Horticulture has helped me with this. I like plants and now can identify plants with my app." Sophie
You will have the opportunity to put everything you learn into practice through the internal and external work experience opportunities, gaining valuable real-life knowledge and work skills.
Keep up to date with the Horticulture Pathway on Twitter and Instagram.