Derwen College's hydrotherapy pool is an essential resource for students' physiotherapy, health and wellbeing needs.
The state-of-the-art Bradbury Hydrotherapy Pool provides students with an invaluable physiotherapy resource.

The pool has accessible changing rooms, a physiotherapy room, and warm water pool. Additionally the lighting and ability to play music provides a positive, relaxing sensory experience.
Most importantly, students with limited mobility access the pool using a dedicated hoist and specialist shower trolley.
The physiotherapy team work with students individually to provide personalised therapy sessions in the heated pool.
The benefits of hydrotherapy include strengthening muscles and improving muscle tone, increasing circulation and range of movement in joints, and providing freedom of movement which is not achieved in dry land therapy.
Please note that access to hydrotherapy is dependent on each student's individual need and funding.
The pool is available for private hire, please contact the therapy team for more information.
---
The pool was opened thanks to generous donations to Derwen Charity.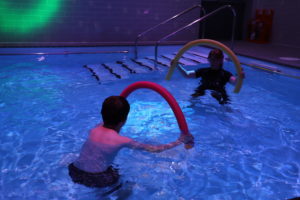 The facility benefited from charitable donations from leading grant makers. These funders include The Bradbury Foundation; St. James's Place Charitable Foundation; and Garfield Weston Foundation and we are very grateful for their support.
At the opening of the pool in September 2019, Catherine Ind, Head of St. James's Place Charitable Foundation, said: "We are delighted to support this project. The development of the hydrotherapy pool will make a positive and long-term difference to the young people who attend the college."
Grateful thanks to the following organisations who also supported this project: