Find out about Derwen College: an Ofsted Outstanding independent specialist college based in Gobowen, near Oswestry, Shropshire.
About our history
Derwen College was established in 1927 by Dame Agnes Hunt (pictured left) who also founded the world renowned RJAH Orthopaedic Hospital. Agnes developed a disability in her hip as a child and yet despite this – or maybe in spite of it – she travelled the world, and later trained as a nurse.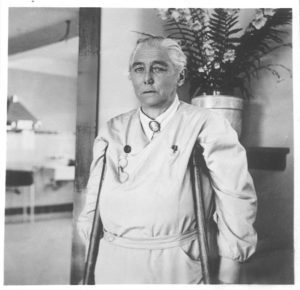 Agnes achieved her passion to treat physically disabled children and adults through her work with Dr Robert Jones.
Later in her life (at the age of 61) Agnes founded Derwen College. Her aim was to teach physically disabled children and adults to become "wholly self supporting". This is a vision of independence that we still work towards more than 90 years later.
Find out more about Derwen's history on our timeline.
About student life at Derwen

Derwen College offers residential and day placements to students aged 16-25 with learning difficulties and disabilities.
With two satellite sites in Shropshire and the main campus in Gobowen, near Oswestry, students have many opportunities to experience real work settings. Our satellite sites are based at Craven Arms and Walford.
Students at Derwen College have a choice of pathway areas for their learning programme:
Having a unique opportunity to work in our restaurant, cafe, print shop or garden centre, students learn work skills needed for the world beyond college.
Outside work, residential students live in the on-site student accommodation, working with staff and other students to learn independence and social skills. Leisure activities are on offer in the evenings and at weekends. There are many clubs, sports activities and trips that happen every week at Derwen College.
About Derwen College Charity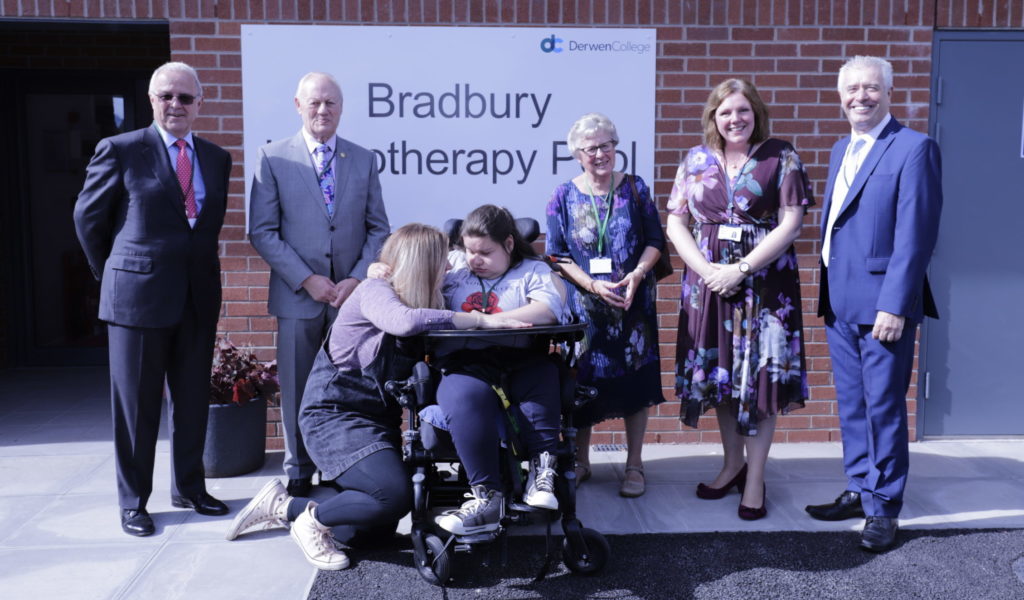 Derwen College has had charity status since 1963. We continue to fundraise to provide our students with opportunities to enhance their learning and independence skills, and reach their full potential. We fundraise to ensure students have access to transport and specialist tools and equipment. Fundraising also helps to provide students with different experiences and to upgrade accommodation.
Fundraising events take place throughout the year at Derwen. You can support us by attending these events or volunteer to be a fundraiser.
We are currently fundraising to upgrade our student accommodation in the Agnes Hunt Village. The fundraising campaign aims to raise £1million over the next three to five years.
PUBLIC NOTICE UNDER SECTION 121(2) OF THE CHARITIES ACT 2011
The Trustees of Derwen College (registered charity number 1153280) hereby give notice that they propose to dispose of the property known as:
Ashdale House, Higher Penley, Wrexham, LL13 0NB
by way of sale of the freehold. The property to be disposed property/land is held on designated charitable trusts.
Any member of the public wishing to make representations on the proposed disposal is invited do so by 11 July 2020. Representations must be made to Carol Thompson, Clerk to the Trustees
By post to: Derwen College, Whittington Road, Gobowen, SY11 3JA
By email to: [email protected]
For the Trustees
Meryl Green
Principal
8 June 2020
About our staff

Our outstanding staff are committed to help our students achieve their full potential. Students are supported every step of the way by staff to learn new skills in work, independence, and socially.
Derwen College employs over 300 members of staff. Staff expertise ranges from care to therapies, nurses to teachers, operational and support staff in teaching, housekeeping, hospitality, retail, administration, maintenance and many other areas.
With the support of staff students have the confidence and skills to move forward with their dreams and aspirations when they leave college.
About Visit Derwen

The commercial outlets at Derwen College remain closed to visitors and we will update when this situation changes. We hope to welcome you back to the Garden Centre, Garden Cafe, Aggie's Art House, the Karten Print shop and The Orangery Restaurant in the not too distant future.
The outlets at Derwen provide valuable work placements for our students. When the College commercial area reopens, you can support our students on their learning journey by visiting the outlets.
For more detailed information about Derwen College please use the menu in the top right of the website.
To educate, inspire and empower young adults to lead the lives they choose – transforming lives
Derwen College Mission Statement