Christmas at Derwen College Charity
Find new exciting ways to support Derwen College this Christmas!
Christmas E-Cards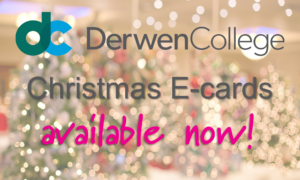 For the first time ever, Derwen College has launched a charity Christmas e-Card. The cards use a student-made design with a little Christmas magic thrown in! In return for making a donation, you will be sent a link to our festive Christmas card and a certificate of thanks.
Share the e-card with your friends and family via email and social media. Let them know you are supporting Derwen College this Christmas.
Derwen College Charity Shop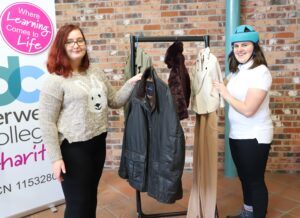 Derwen College Charity now has its very own eBay shop. The shop showcases the beautiful range of quality donations we have been given by staff, friends and the local community. Students are involved with this new enterprise and have been helping to pick suitable items for sale, as well as packing and posting items to our customers. All items are good quality and pre-loved – please browse our charity shop and bag yourself a bargain.
Derwen College to Lapland Virtual Challenge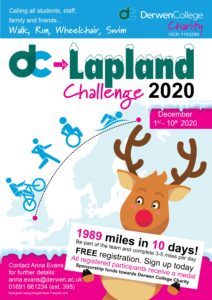 Fancy a walk to Lapland? Well look no further than the DC to Lapland Challenge 2020! We are encouraging students, their families, staff and friends of the college to join this 10 day virtual walk to Lapland to raise funds for the college. This exciting new challenge will test your commitment to the cause by clocking up as many miles as you can in ten days. Be part of our team and help us get to Lapland!
Derwen College Charity supports the college in providing the extra experiences and opportunities that our students need to truly progress and thrive. Thanks to the donations and fundraising events in aid of Derwen College over the past 90 years, the college has been able to grow and adapt according to our students' needs, and become a leader among SEND colleges.
Find out more about Derwen College, and further ways to support the charity


Derwen College Charity News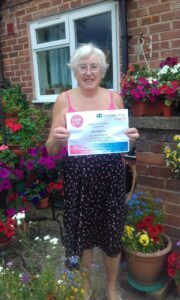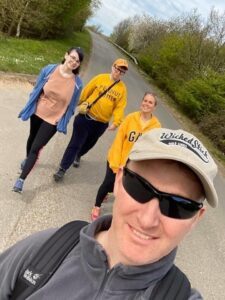 It has been wonderful to see students and the local community support us with their own fundraising initiatives over the past few months.
Local Sponsored Walk stalwart Olive Morris has collected more than £250 on a 10k walk around Oswestry.
Here's how you can support Derwen College Charity during 2020
1 – Donate directly to Derwen through our Virgin Money Giving account.
2 – Get involved with some fundraising! We are currently looking for anyone who is interested in volunteering at community events to please get in touch.
3 – Purchase an item from our Derwen College ebay account.
4 – Let your friends and family know about Derwen College. We are on Facebook, Twitter and Instagram and always appreciate a share or retweet!
5 – Join in with one of our virtual events! Until we are able to hold events in person, we will be having events online throughout the year. On 1st-10th December we will be attempting to walk, run, swim or scoot from Derwen College to Lapland! Fancy joining in the fun? Get in touch with Anna Evans.
6 – Join up with Give as you Live to raise money for Derwen College while you shop online.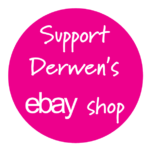 Share your fundraising fun at #derwendays.
Thank you for supporting Derwen College Charity.
You enabled us to build a new hydro-therapy pool,
which opened in September 2019.