How to support Derwen College Charity
Derwen College Charity supports the college in providing the extra experiences and opportunities that our students need to truly progress and thrive. Thanks to the donations and fundraising events in aid of Derwen College over the past 90 years, the college has been able to grow and adapt according to our students' needs, and become a leader among SEND colleges.
Latest News from Derwen College Charity
Steve Morgan Foundation 20th Anniversary Awards

The Steve Morgan Foundation recently shortlisted Derwen College in their 20th Anniversary Awards. The charity has been shortlisted for the Best Entrepreneurial Charity or Social Enterprise (Above £250,000) category. If we win, we would receive a prize worth £12,000 to put towards creating a new drop-off centre for our popular new charity shop –
The Vintage Advantage
.
Derwen College eBay Shop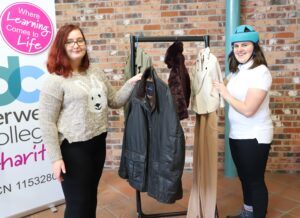 Watch out for new clothing and bric-a-brac items in our eBay shop which is updated regularly. The shop stocks an array of beautiful items donated to the college by our generous supporters. Retail and Enterprise students sort and clean, pack and post the items featured and purchased from our eBay shop.
The eBay shop helps to raise money for Derwen College Charity while providing valuable work experience for Retail students.
Give as You Live Online is the free and easy way to raise free funds for Derwen College, simply by shopping online. Join for free today and start raising money when you shop at over 4,000 stores. Shops such as M&S, H&M, ASOS, John Lewis, eBay and Argos are all included. Click on a store you want to shop with and the site will direct you to the store's website where you can continue to shop as normal. Your purchase will automatically generate free funds for charity. It couldn't be easier.
Further ways to support Derwen College Charity
Here's how you can support Derwen College Charity during 2022
1 – Donate directly to Derwen College via Enthuse. You can chose to make one-off or regular payments.
2 – Become a fundraiser! We are also currently looking for anyone who is interested in volunteering at community events to please get in touch.
3 – Purchase an item from our Derwen College eBay account.
4 – Let your friends and family know about Derwen College. We are on Facebook, Twitter and Instagram and always appreciate a like, share or retweet!
5 – Join up with Give as you Live to raise money for Derwen College while you shop online.
Get in touch with our fundraiser Anna Evans.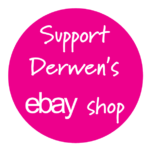 Share your fundraising fun at #derwendays.
Thank you for supporting Derwen College Charity.
You enabled us to build a new hydro-therapy pool,
which opened in September 2019.