The Agnes Hunt Village project
In November 2019 Derwen College launched a £1 million project to modernise the Agnes Hunt Village in Gobowen.
This is a bespoke housing complex for people with Special Educational Needs and Disabilities (SEND).
The Agnes Hunt Village was originally built in 1952.

The design of 28 accessible bungalows, built on land next to Derwen Training College was, during the 1950s, ground-breaking.
Derwen College was founded by Dame Agnes Hunt 25 years earlier to provide care, education and work skills for people with physical disabilities.
The village was Dame Agnes Hunt's last dream – to create homes for people with disability to live a fully independent life. The design brief was simple: to build houses that looked and felt like 'homes'. Consequently, the whole site resembles a village – complete with a central 'village green'.
Sadly Dame Agnes died before work began on the village – but her vision was not lost.
Those who knew and worked with Dame Agnes at Derwen College were determined to carry out her last wishes. The Rt.Hon. Lord Kenyon of Gredington led a successful fundraising appeal to create the Agnes Hunt Village. Donations totalled £78,000.
In 1956 the Oswestry and Borderland Advertizer carried a feature on the newly built Agnes Hunt Village. In it, we learn about some of the families who lived there. It was the beginning of a wonderful and happy life in homes considered luxurious by general standards of the time.
Extract from The Advertizer, 24 October 1956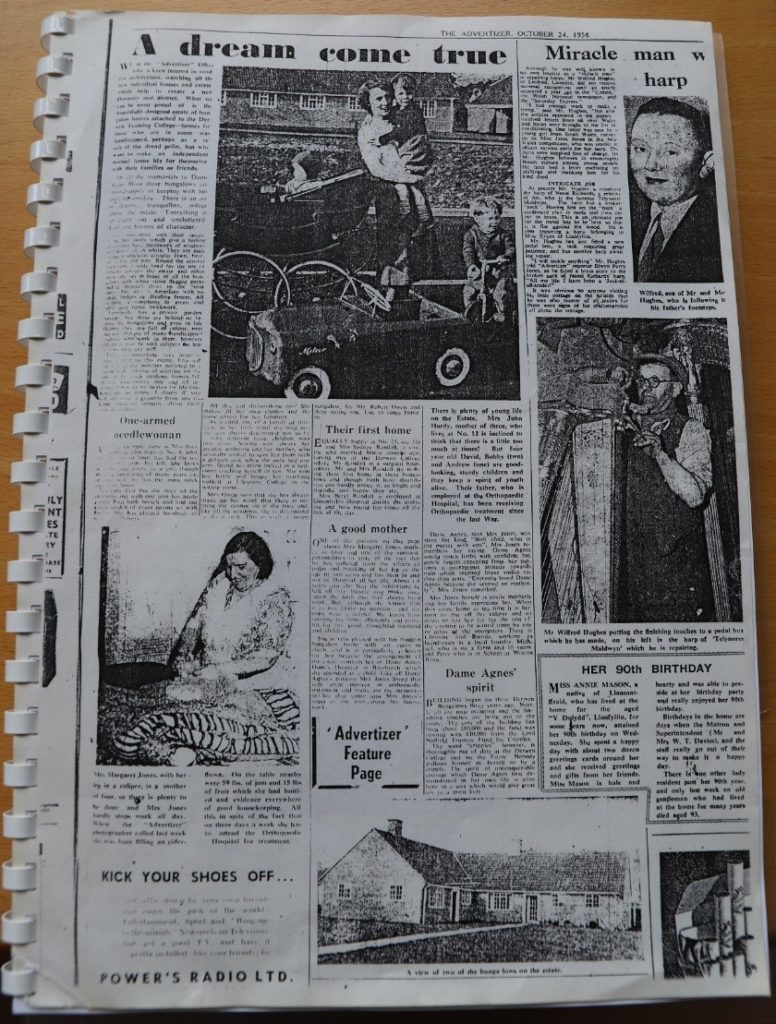 "Building began on these Derwen Bungalows three years ago. Nearly all are now occupied and the finishing touches are being put to the estate. The cost of the building has been about £80,000 and the fund was opened with £10,000 from the Lord Nuffield Trustees Fund for Cripples.
"The word 'cripples' however, is thoroughly out of date at the Derwen College and on the Estate Nobody allows himself or herself to be a cripple. The spirit of unconquerable courage which Dame Agnes first demonstrated in her own life is alive here in a way which would give great joy to a great lady."
Read some of the memories of the original Derwen residents including the Randles who were the first married couple to move into The Agnes Hunt village in 1955; the Braddicks whose lives have been entwined with the Derwen for more than 70 years; the Hardy brothers who lived at Number 12; and Mark Shapcott from Number 16.
The Agnes Hunt Village today…

Derwen College officially launched the Agnes Hunt Village project on 7 November 2019 where former residents, businesses, press and supporters came along to view plans, meet students and share stories of the bungalows' past, present and future.
'The stepping stone to independent living'
Students at Derwen College today benefit from living in the Agnes Hunt Village. Here they learn important independence skills – preparing healthy meals, caring for themselves, learning housekeeping skills. Travel training, for instance, walking to the local shops independently or getting the bus to work. All these skills will help to prepare students for life after college.
To enable more students to access these bungalows, they need to be modernised.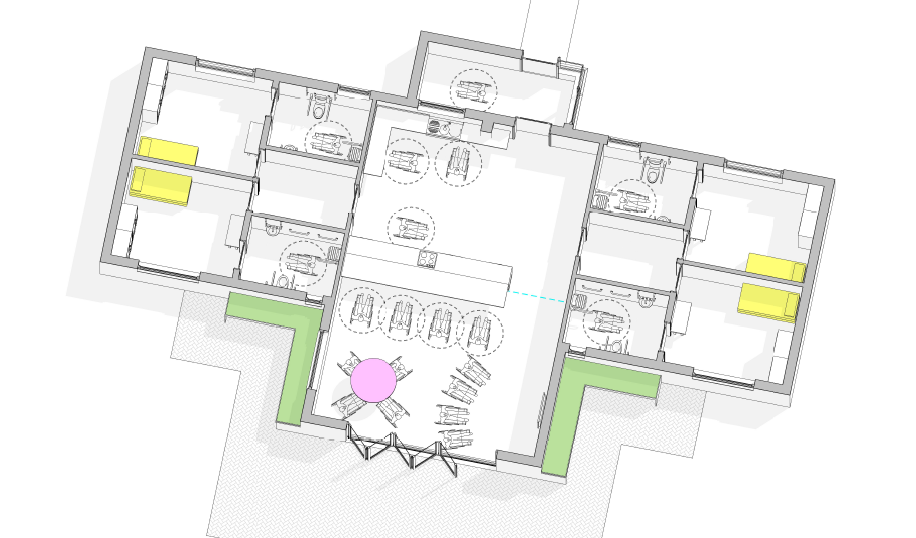 Our plans include:
Wheelchair accessible homes
En-suite wetrooms
Open plan living space
Enhanced security technology
Improved energy efficiency
We are delighted that some modernisation of kitchens and bathrooms at the bungalows has already started due to a generous legacy  of £100,000 left to Derwen College Charity by Mr Reginald Phillips, from Shrewsbury. Read more about his story here.