Memories of fleeting goodbye kisses, games of marbles in the hall, and DIY projects, came flooding back when Nantmawr couple June and Bill Braddick, and daughter Ruth, visited Derwen College's Dame Agnes Hunt Village in Gobowen.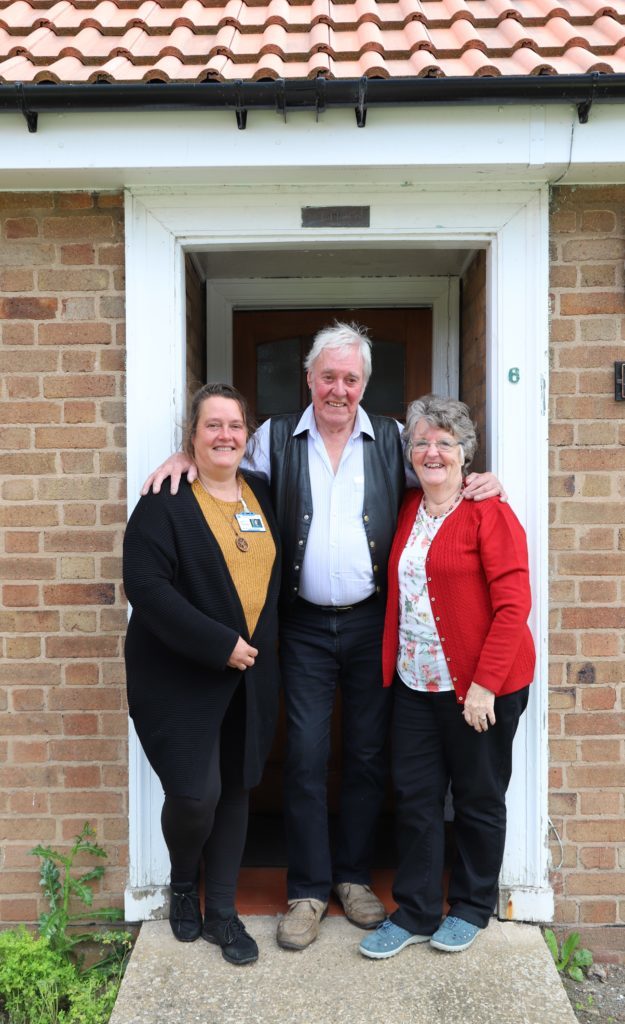 Derwen College welcomed June, Bill and Ruth Braddick to view number 6 Agnes Hunt Village. The village was built in 1952 to provide independent housing to people with disabilities.
The bungalow, named 'Tintagel', is one of 28 built in memory of the pioneering founder of Derwen College.  It was part of Dame Agnes's vision for a more independent life for those with disability.
As former Derwen trainees, June's parents, Peggy and Bob Parry, were eligible to live in one of the modern bungalows.  Set in a quadrant around a centre lawn, the village was officially opened by The Duchess of Kent.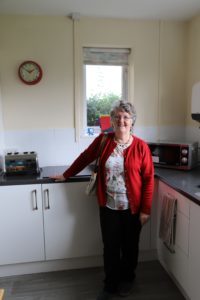 June's mother Peggy had a paralysed leg due to childhood polio. She trained as a toymaker and seamstress at what was then called 'Derwen Cripples Training College'. June's father Bob had lost his leg as a young boy.   He suffered complications resulting from being kicked by a pit pony when working down Gatewen Colliery, near Wrexham. Bob trained as a shoemaker at Derwen.
The pair met at Derwen College but only fell in love when they met at a specialist training facility in London. By many twists and turns of fate – including war, work and a daughter – came to live back in Gobowen. Bob began working at Derwen as a maintenance painter. Meanwhile Peggy was offered a job in the surgical appliance department.
During Peggy's latter years, June spent many hours talking to her mother and compiled a book around her life at Derwen.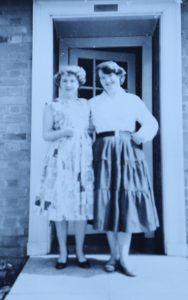 The book, called Entwined Lives, follows the varied paths which cross back and forth, but always seem to return to Derwen.
In the book Peggy says: "Thank you to dear Dame Agnes Hunt who was in a way like a guardian angel, not only to me, but to many others in similar circumstances."
Peggy and Bob have now passed away, but the modest bungalow is filled with memories for June and Bill. The pair remember sneaking goodnight kisses in the porch when June lived with her parents in the bungalow. They also lived in the bungalow with Peggy and Bob when they were first married and waiting to move into their first home. Bill remembers putting up shelves in the larder at 'Tintagel' and helping to level the back lawn by hand.
The couple even held their wedding reception at Derwen College's Concert Hall (which sadly burnt down in January 1982)
The Braddick story is still entwined with Derwen College.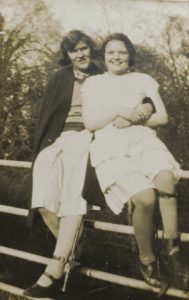 Peggy's granddaughter Ruth works as a teacher at Derwen @Walford in Baschurch.
Ruth has fond memories of playing marbles in the hallway of Bungalow number 6 with her younger brother David; sheltering under the old tree in rain, playing around the workshops in amongst the roses, and playing pooh sticks with David on the bridge. She started work as a teacher at Derwen in 1997. Ruth now works at the college's Baschurch satellite site – in the same village where Dame Agnes created a revolutionary open-air hospital back in 1900.
No 6 is currently home to three young men who are Derwen College students. The hall where Ruth and David played marbles is now carpeted. The bungalow recently had a new kitchen and bathroom fitted, yet the layout is the same. The family visit was an emotional experience.
June says: "Derwen has been a significant part of our family history. Talking to my mother about her memories was fascinating, with so many stories of resilience, co-incidence and happiness. Like Agnes Hunt, disability never held her back, and she always said that through her life she was happy."
"Visiting the bungalows brought back so many fond memories. I am looking forward to meeting the young men who now live in Number 6; to talk to them about how the village is bringing them independence. I hope the bungalow brings them as many happy memories as it has for our family."
For more information about the appeal and to read stories of other families who have lived in the bungalows over the years visit www.agneshuntappeal.co.uk