As Derwen College launches the Agnes Hunt Village Project appeal, the request for stories from people who have lived in the life-changing bungalows over the decades has unearthed many fascinating stories.
Guests at the appeal launch on Thursday (7 November 2019) will include people with fond memories of living and growing up in the Dame Agnes Hunt Village.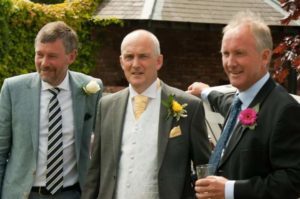 Bob Hardy grew up in Bungalow 12 with his parents Eunice and Jack Hardy and brothers David and Andrew.
"We lived at Number 12," remembers Bob. "My dad came to what is now the Robert Jones and Agnes Hunt Orthopaedic Hospital for treatment after being invalided out of RAF. Eventually we moved into the bungalows and he worked at the hospital in Splints and Appliances. My mum nursed at both the Derwen and the hospital."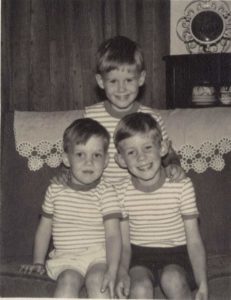 Bob's parents remained living in the bungalows until his dad passed away in 1974 . His mum Eunice moved to Oswestry soon after. Eunice died in 2011 at the age of 84.
Bob and his brothers all still live locally and have fond recollections of their childhood.
"I have happy memories of growing up in the Agnes Hunt Village. There were a lot of families with children whose parents worked at Derwen or the Orthopaedic Hospital," he says.
"There were many people who suffered debilitating conditions or disability. We all played together and helped each other out. We played football and cricket on the lawn in the middle of the cul-de-sac. There was only one tree there at the time so it was perfect for sports. I remember a gardener called Ivor who would cut the grass perfectly for cricket.
"We knew everybody and used to play and cycle around the Derwen and follow the path through the field to fish in the brook. We used to get wheels from the old wheelchairs to make our go-karts."
The family remains connected with the RJAH Hospital and Derwen.
Bob is particularly proud that his wife Glenna, a Specialist Nurse Practitioner for Arthroplasty at the hospital, was the first to receive the Dame Agnes Hunt Nursing Medal. She was presented with the inaugural Dame Agnes Hunt Nursing Medal by HRH Princess Alexandra during an official Royal visit in 2017.
Bob's brothers, children and nephews continue the tradition with many still working at the Orthopaedic Hospital as nurses, pharmacist and admin, says Bob.
"All three of us have been closely linked to Derwen and the Orthopedic Hospital. It's lovely to see that link with Agnes Hunt carry on to the next generation."
For more information regarding the Agnes Hunt Village Project and the launch on Thursday, 7th November visit www.agneshuntappeal.co.uk email fundraiser Anna Evans on anna.evans@derwen.ac.uk or telephone 01691 661234.