Celia Johnson will be special guest at the Agnes Hunt Village Project charity launch on behalf of the late Reginald Phillips.
Reg left a substantial legacy to the Derwen College, kick starting the Agnes Hunt Village Project with a £100,000 donation.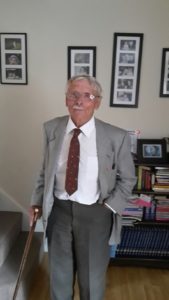 Reg, who died on 15 September 2018, aged 87 years, left money in his will to Derwen College, Robert Jones & Agnes Hunt Orthopaedic Hospital and the Royal Shrewsbury Hospital.
Reg's legacy has enabled the college to start work improving some of the bungalow kitchens and bathrooms, ensuring they are up-to-date for students' needs and development of independence skills.
Reg spent time at the Derwen College recuperating after falling from the new Telephone Exchange Building in Shrewsbury during its construction in the 1950s or 1960s. He was initially treated at the Robert Jones and Agnes Hunt Orthopaedic Hospital before moving for rehab and physio treatment at the Derwen.
Celia, who supported and cared for Reg in his later years, believes he may well have lived in one of the Agnes Hunt bungalows at the time.