Derwen College Ludlow is our newest satellite site, which opened at the end of October 2021.
At Ludlow you will learn skills on a Business Support & Enterprise pathway.
Day students from Shropshire and the surrounding areas, including Herefordshire, Worcestershire and Powys, will attend Derwen College Ludlow to learn skills including:
Customer Service skills.
Money handling and accounts.
Production of items for direct sales.
Digital applications.
Travel Training.
Safe use of office equipment.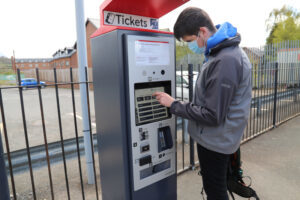 Working in small groups you will undertake a range of work based employability activities. Your timetable will be designed around you to ensure your learning needs are met.
As you learn a range of employability skills to meet your aspirations, your confidence and independence skills will develop.
Pathway overview

We will teach you relevant skills appropriate to your individual learning needs.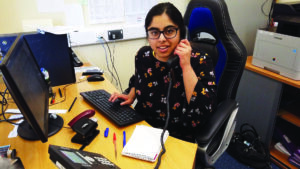 You will have the opportunity to work towards vocational qualifications to enhance your future employment prospects.
Together with Pearson Edexcel Functional Skills English and mathematics (from entry level to level 2) we offer:
Introductory Certificate in Business – Level 1.
Vocational Studies – Entry Level 3 and Level 1.
Food Hygiene Awareness – Level 1
As well as learning vocational skills, you will also develop skills and gain confidence in other areas:
Social situations– you will have the opportunity to meet many different people on your learning journey. From peers and staff, to members of the public: social interactions will be part of your daily routine.
Independence – you will be supported to become more self-reliant through decision-making and increased personal responsibility.
Reading – you will experience a wide variety of reading materials including recipes, instructions and fictional works.
Writing – your written work will be far-ranging, for example, letters, emails and creative writing.
Numeracy – your mathematical skills will be enhanced through exploring travel timetables, measuring ingredients and budgeting for meals.
Find out more about life as a Derwen College day student.
Watch A Day in the Life of… Rachel who is a day student at our Walford satellite site.
You can also find out more about Derwen College, by visiting our Frequently Asked Questions page.
Alongside your work-based learning, you will take part in enrichment activities including:

Duke of Edinburgh's Award.
Art & Crafts.
Food preparation, cooking, budgeting and house-keeping duties.
Digital media.
Community access.
Sports.
Work placements
As your skills progress you will have the opportunity to work with local businesses. You will access varied external work placements with organisations that may include administration, customer services, health and social care.
Entry Requirements
The Business Support & Enterprise Pathway at Derwen College Ludlow is for young adults aged between 16 and 25 with special educational needs or disabilities, who live in or around Shropshire, Herefordshire and Powys.
Please contact us if you are interested in work ready business based activities, and are working at Entry Level or Level 1.
Contact Us

Follow our Area Satellite Manager Peter Leddington @PeterL_Derwen on Twitter here. Alternatively, you can email Peter at peter.leddington@derwen.ac.uk
Visiting Derwen College Ludlow…
We are located about half an hour's drive from Shrewsbury and Bridgnorth; an hour's drive from Hereford and Kidderminster.
Derwen College Ludlow, 8-9 The Business Quarter, Eco Park Road, Ludlow, Shropshire SY8 1FD.
Keep up to date with the Derwen College Ludlow team on Twitter and Instagram.