Derwen College Telford opened in September 2020. It offers Business Support, Sales and Marketing, and Hospitality Pathways to students from Telford and the surrounding areas.
You will work within small groups in a friendly, productive environment. Once you gain confidence and your skills p
rogress, you will have the opportunity to work within the local community.
Students on the Derwen College Telford pathway learn skills in:
Customer Service.
Printing and design.
Hospitality.
Work ready skills.
Office and administration skills.
Communication.
Safe working practices.
Independence; including food prep, cooking and basic housekeeping.
Functional Skills; English, maths and ICT.
Sales and Marketing.
Enterprise.
Volunteering.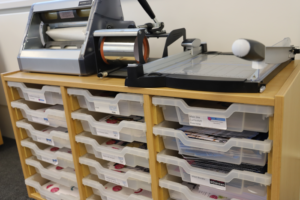 You will learn in small groups to undertake a range of business support, sales, marketing and hospitality employability activities. Your timetable will be designed around you to ensure your learning needs are met. As you learn a range of fundamental employability skills to meet your aspirations, your confidence and independence skills will develop.
Find out more about life as a Derwen College day student.
Watch A Day in the Life of… Rachel who is a day student at our Walford satellite site.
You can also find out more about Derwen College, by visiting our Frequently Asked Questions page.
We will teach you relevant skills, appropriate to your individual learning needs. You will work towards vocational qualifications:
Introductory to Vocational Studies – Level 1.
Entry to Vocational Study – Entry Level 3.
Skills for Working Life – Entry Level 2/3
Exploring Occupations – Entry Level 1/2
Curriculum Overview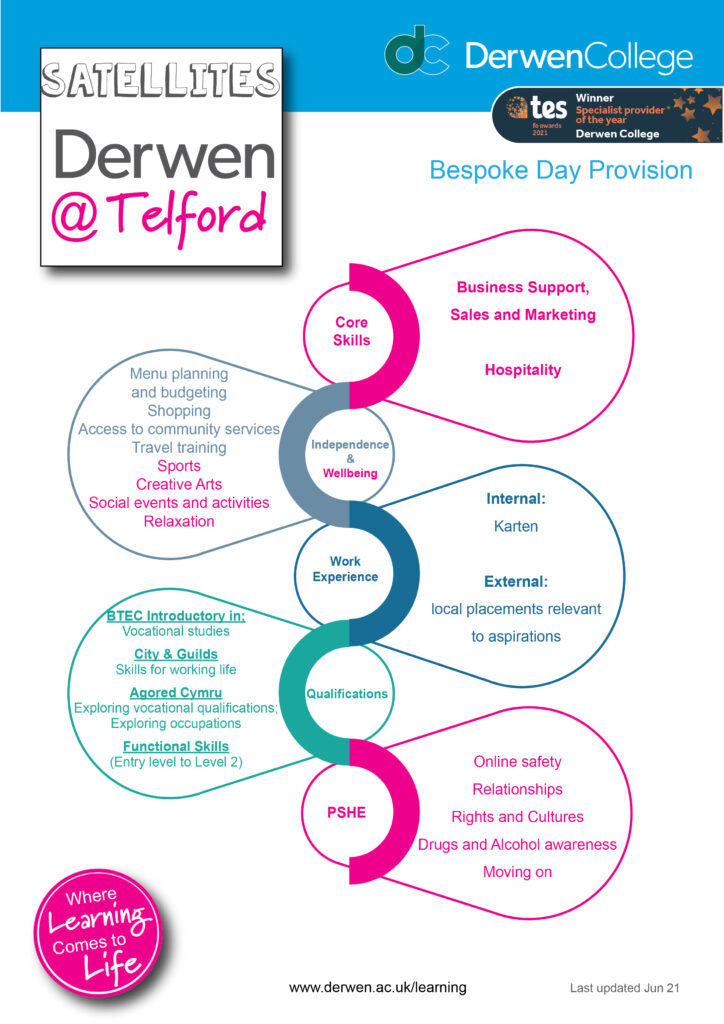 As well as learning vocational skills, you will also develop skills and gain confidence in other areas:
Social situations – you will meet lots of different people on your learning journey. From peers and staff, to members of public, social situations will be part of your daily routine.
Independence – as you learn new skills you will become more confident in working, or travelling to work, independently.
You will also learn kitchen skills. Cooking, cleaning, food hygiene, healthy eating, making good choices and knowing about portions sizes are all essential for your independence.
The level of independence will be different for everyone.
Reading – you may be reading resources, customer orders or messages on equipment relating to your work. Reading – at your level – will be embedded throughout your work.
Writing – your written work may be through the use of documents, emails, or hand written diaries.
Numeracy – you may be looking at travel timetables, counting copies of documents or budgeting for meals. Numeracy will be embedded into sessions in a way that is unique to you.
Alongside your work-based learning, you will experience wellbeing activities, including:
Art & Crafts
Sport and Fitness
Social activities
Mindfulness
Digital Skills
Walking
Volunteering in the local community -we have all signed up as Street Champions
Work placements
As your skills progress you will have the opportunity to work within the local community. You will access external work placements appropriate to your work area and aspirations.
Entry Requirements
The Derwen College Telford pathway is for young adults aged between 16 and 25 with special educational needs and disabilities, who live in or around Telford and Shropshire.
Contact us if you are interested in Business Support, Sales, Marketing, and Hospitality related training, and are working at Entry Level to Level 1.
Contact Us

Keep up to date with the Derwen College Telford team on Twitter and Instagram.