As a Hospitality and Food Pathway student we will teach you industry standard vocational skills. These skills will enable you to find employment in hospitality and food establishments.
You will learn core skills in housekeeping, bakery, customer service and basic catering before progressing to work placements.
Students on the Hospitality and Food Pathway learn skills to:
Plan and prepare food.
Understand the importance of Food Hygiene.
Store food and equipment safely.
Provide customer service.
Prepare and check rooms for guests.
Understand health and safety at work.
Identify healthy food types.
On the Hospitality and Food pathway you will learn core skills in varied environments. You will work within our training hub, training kitchen and housekeeping hub.
Following your initial training you will move on to internal work experience areas. Derwen College has:
Each area offers real-life work experience opportunities providing services to the public. Your confidence and independence skills will develop and you will learn a range of fundamental employability skills.
Curriculum Overview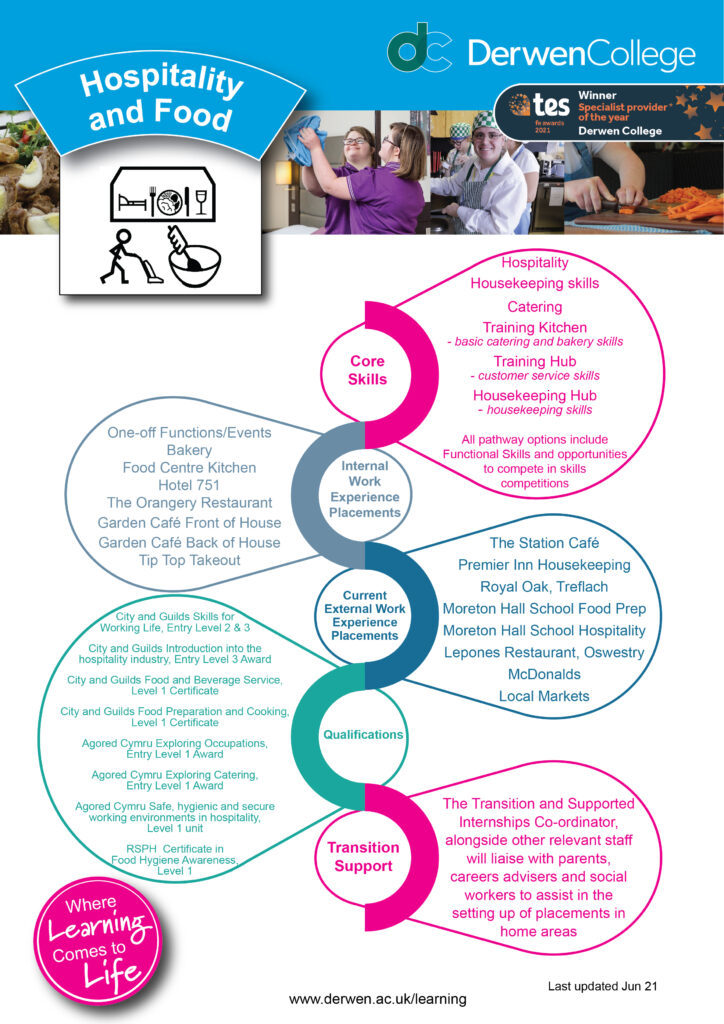 As well as learning vocational skills, we will give you the opportunity to develop skills and gain confidence in other areas:
Social situations – you will meet lots of different people on your learning journey. From peers and staff to customers and other members of public. Social situations will be part of your daily routine.
Independence – as you learn new skills you will become more confident working independently. The level of independence will be different for everyone.
Reading – you may be reading resources, product instructions, food labels or recipes. Reading – at your level – will be embedded throughout your work.
Writing – your written work may be through the use of Makaton symbols, emails, or hand written diaries.
Numeracy – you may be weighing ingredients, counting cakes, handling till payments or measuring temperatures. Numeracy will be embedded into sessions in a way that is unique to you.
In addition, you will have access to discrete
maths and English
sessions if it is recognised it will benefit you.
We will teach you relevant skills, appropriate to your individual learning needs, to gain vocational hospitality and food qualifications:
Exploring Catering – Entry Level 1.
Exploring Occupations – Entry Level 1.
Safe, Hygienic and Secure Working Environments in Hospitality Level 1.
Introduction into the Hospitality Industry – Entry 3.
Skills for Working Life – Entry 2 / Entry 3
Food Preparation and Cooking – Level 1.
Food and Beverage Service – Level 1.
Certificate in Food Hygiene Awareness, Level 1.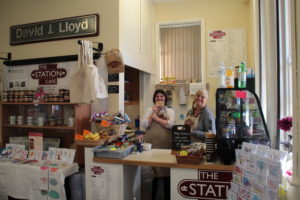 Hospitality and Food work placements
As you progress through your course, you will have the opportunity to undertake internal work placements. Work placements give you the opportunity to do vocational jobs in a familiar environment before moving on to an
external placement
.
The Hospitality and Food Pathway team work closely with local and national hospitality businesses. External work placements are on offer where you will experience real working environments, often working different shifts.
These placements will boost your confidence in work and social situations. We currently work with:
Other opportunities on the Hospitality and Food pathway
On the Hospitality and Food pathway you have the opportunity to take part in different functions and events. You may also take part in local and national competitions.
In recent years students have represented Derwen College at regional and national competitions. Former students have taken part in the Welsh International Culinary Championship, and have won Gold and Silver awards at the Inclusive Skills Competitions.
Our staff are industry trained. Because of this, the skills you learn from them are at industry standards. Similarly staff and students regularly visit other restaurants and trade fairs to ensure standards are kept up to date.
How to Apply
Further information can be provided by the Admissions Team on:
Tel: 01691 661234 ext 401 or Email: admissions@derwen.ac.uk
Keep up to date with the Hospitality and Food pathway on Instagram, Twitter and Derwen College's Facebook.