On the Retail pathway you will be taught vocational skills. These include Communication and Customer Care, Handling ICT and Sales, Printing and Advertising, and Employability Skills.
You will learn in the classroom and in work based settings. The
Garden Centre Shop
and Stock Room, Karten Print Shop and Stock Room all provide work based sessions.
Where appropriate you can gain accreditation with the following qualifications:
BTEC Award in Vocational Studies Entry 3 / Level 1
City & Guilds Skills for Working Life Entry 1 / Entry 2
Agored Cymru Extended Award in Retail and Admin Entry 1 / Entry 2
You will develop your communication, social, independence, reading, writing and numeracy skills. And you will have access to discrete maths and English sessions if appropriate. Read about Charlotte, one of our former students, and her journey at Derwen.
Work placements
As your retail skills develop you will be able to undertake internal work placements. Work placements give you the opportunity to work in a familiar environment before moving on to an external placement.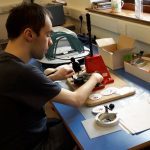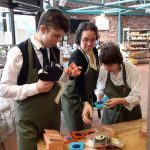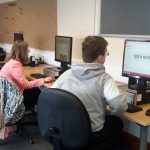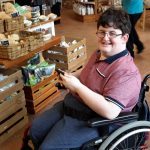 The Retail pathway has strong links with local teams and national businesses including Spar and Co-op. We offer learners external work placements and activities to boost confidence as well as work and social skills. This includes bag packing, training days and tours. We currently work with:
Other opportunities
As a retail pathway student you will have the opportunity to take part in activities such as Inclusive Skills competitions (Visual Merchandising and IT). Similarly you can also get involved in charity and community events. Students enjoy bag packing at Tesco and Sainsbury's which also raises money for Derwen Charity. Retails students also attend Oswestry Accessibility Meetings. Here they are able to voice their opinions relating to accessibility in and around the local area.
You can keep up to date with the Retail pathway on Twitter – follow us at @derwencollege
How to Apply
For further information contact the Admissions Team on:
Tel: 01691 661234 ext 401 or Email: [email protected]