Nurture is Derwen College's bespoke and personalised learning programme for students with Profound and Multiple Learning Disabilities.
The aim of the Nurture programme is to support young people to transition from school to adult life.
Students following the Nurture programme will experience a range of activities that will enhance quality of life outcomes.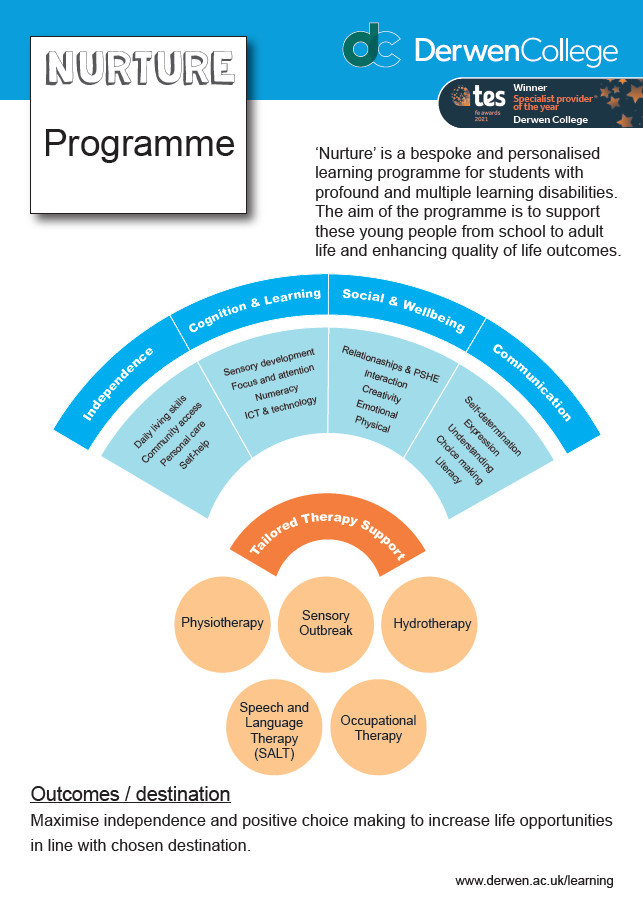 The Nurture programme is day provision designed to support students in five key areas:
Independence

Daily living skills.
Community access.
Personal care.
Self help.
Cognition and Learning
Sensory development.
Focus and Attention.
Numeracy.
ICT and technology.
Social and Wellbeing

Relationships and PHSE.
Interaction.
Creativity.
Emotional.
Physical.
Communication
Self-determination.
Expression.
Understanding.
Choice Making.
Literacy.
Tailored Therapy Support

Physiotherapy.
Sensory Outbreak.
Hydrotherapy.
Speech and Language Therapy.
Occupational Therapy.
Outcomes/destination
At the end of the programme student will be more able to maximise independence skills and make positive choices. Skills learnt on the Nurture programme will increase life opportunities inline with chosen destination.
How to Apply
Further information can be provided by the Admissions Team on:
Tel: 01691 661234 ext 401 or Email: admissions@derwen.ac.uk