Sam
Sam, from London, was a hardworking and dedicated student who embraced every opportunity available to him during his four years at Derwen College. Since graduating, he has started a supported internship, and is living in his own flat.
During his time at Derwen, Sam worked in the College's Karten Print Shop and on the weekly Derwen College Oswestry Market Stall. He also had regular work placements at a local charity shop and at Severn Trent Water's main Shrewsbury site where he worked on reception and supported with health and safety checks.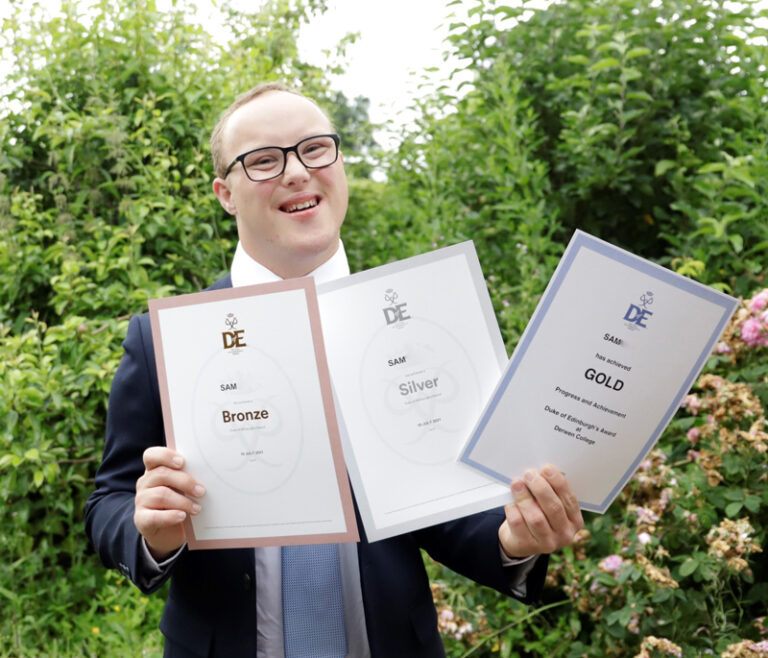 Outside work, Sam embraced the college social life, sports and leisure programme, and was a dedicated part of the Derwen community.
Sam, who has Down's Syndrome and a moderate learning difficulty, achieved his Gold Duke of Edinburgh's Award, was a regular in the gym, and in sports teams, and represented his fellow Retail and Enterprise students on the College's Student Union Board.
Sam told us:
"My time living away from home at Derwen in the bungalows, and all the great work experience I did there, helped me get the confidence and skills to be able to live in my own flat and to get the internship. My local friends who did not go away to college are all still living at home and can't look after themselves and I am very happy and proud that I was lucky enough to go to Derwen and become as independent as this."