The Learning for Life Pathway is an exciting, fun and bespoke programme. It is tailored to meet the needs of individual learners who require that little bit of extra support.
On the Learning for Life Pathway you will gain the necessary skills that support you in all aspects of life. This could be additional support with communication, personal development, interaction, team work, and problem solving or self-regulation skills.
Learning for Life core skills will build your work confidence, and include:
Personal Development.
Communication Skills.
Confidence Building.
Life Skills (Independence).
Work Skills (Getting myself ready for work/Getting myself ready to learn).
Working with others.
Making positive choices.
Problem Solving.
Identifying emotions.
Fine and Gross Motor skill development.
Sensory development.
Physical Wellbeing.
The Learning for Life Pathway is bespoke to each individual learner. The team works closely with the Speech and Language and Occupational Therapy teams to ensure a holistic approach to learning.
What you explore within this pathway is personalised and tailored to meet your specific needs.
You will take part in lots of exciting projects and tasks within the Learning for Life pathway. These projects will support your development of core skills, and include:
Gardening.
Holistic therapies.
Sport and fitness.
Creative activities.
Sensory exploration.
Skills in water (situated in our hydrotherapy pool).
A range of other projects will be accessible throughout each term.
During the Learning for Life assessment process we may identify that you have the skill set to gain specific vocational work skills. Should this happen, the team will work with you and the pathway team to arrange a managed transition onto the pathway.
The vocational pathways on offer at Derwen College include:
If you require further Learning for Life input, you will continue to access core skill sessions. Your skills will advance as you learn in a supported, inclusive environment which will support your personal development. You will learn at your own rate and with the full support that you need.
Curriculum Overview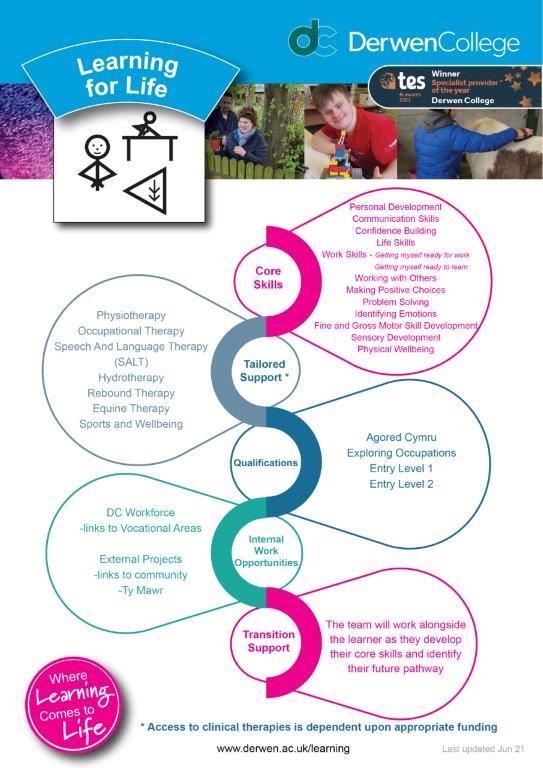 You will have the opportunity to undertake Foundation Studies qualification appropriate to your learning needs.
On the Learning for Life Pathway you will work towards units from the Agored Cymru Exploring Occupations award at Entry Level 1, 2 or 3.
Depending on your progress, you may also be able to undertake a specific vocational qualification.
How to Apply
Further information can be provided by the Admissions Team on:
Tel: 01691 661234 ext 401 or Email: admissions@derwen.ac.uk