As a Horticulture Pathway student we will teach you skills that will enable you to find horticultural placements and employment.
Students on the Horticulture Pathway learn skills to:
Propagate and grow plants using different methods.
Care for plants.
Create displays.
Work safely in the horticulture environment.
Communicate appropriately with colleagues and customers.
Provide customer service.
Through these experiences you will learn a range of Employability Skills.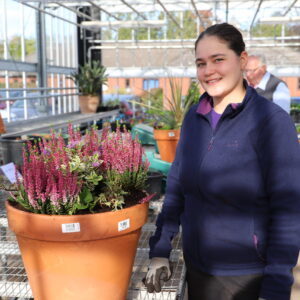 You will learn in both classroom and in hands-on work-based areas of the college. Derwen College has a
Garden Centre,
Glasshouses and an
Award Winning Walled Garden
that are open to the public and offer real-life work experience opportunities.
Curriculum overview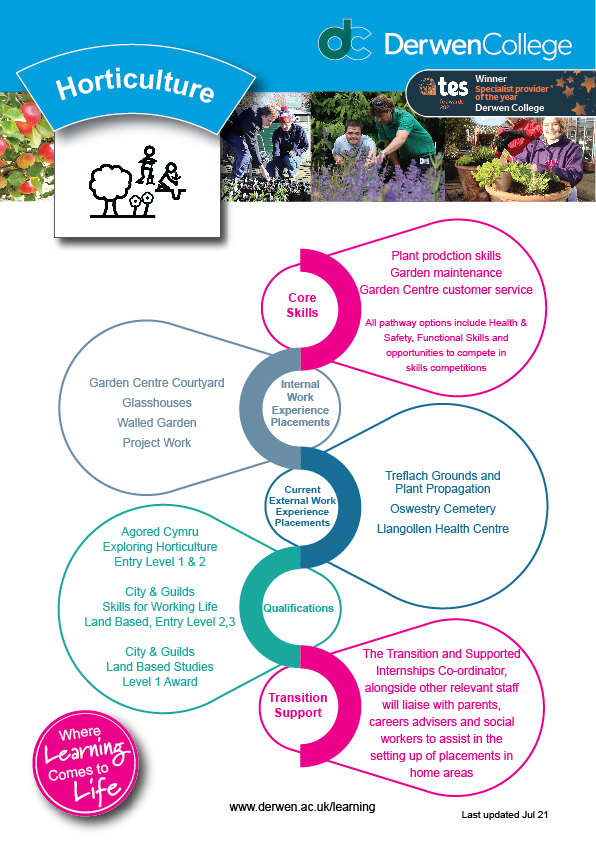 As well as learning vocational skills, we will give you the opportunity to develop skills and gain confidence in other areas:
Social situations – you will meet lots of different people on your learning journey. From peers and staff to customers and other members of public. Social situations will be part of your daily routine.

Independence – as you learn new skills you will become more confident in working independently. The level of independence will be different for everyone.
Reading – you may be reading resources, planting instructions, labels or weather forecasts. Reading – at your level – will be embedded throughout your work.
Writing – your written work may be through the use of Makatons symbols, emails, or hand written diaries.
Numeracy – you may be counting seeds or plants, measuring temperatures and water levels. Numeracy will be embedded into sessions in a way that is unique to you.
We will teach you relevant skills, appropriate to your individual learning needs, to gain horticultural vocational qualifications.
These qualifications include: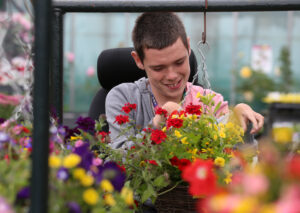 Work placements
As you progress through your course, you will have the opportunity to undertake internal work placements. Work placements give you the opportunity to do vocational jobs in a familiar environment before moving on to an external placement.
We work closely with local teams including:
Furthermore, you will have the opportunity to get involved in projects such as summer displays in Oswestry and Llangollen. Horticulture students are often involved in Oswestry's Britain in Bloom entry. In 2018 Oswestry won a Silver Gilt award in the competition.
How to Apply
Further information can be provided by the Admissions Team on:
Tel: 01691 661234 ext 401 or Email: admissions@derwen.ac.uk
Keep up to date with the Horticulture Pathway on Twitter and Instagram.