Anna was a 20-year-old student when she met Joe, the man who is now her fiancé. It's a typical story of leaving home to go to college, finding your feet and your freedom, and meeting the love of your life.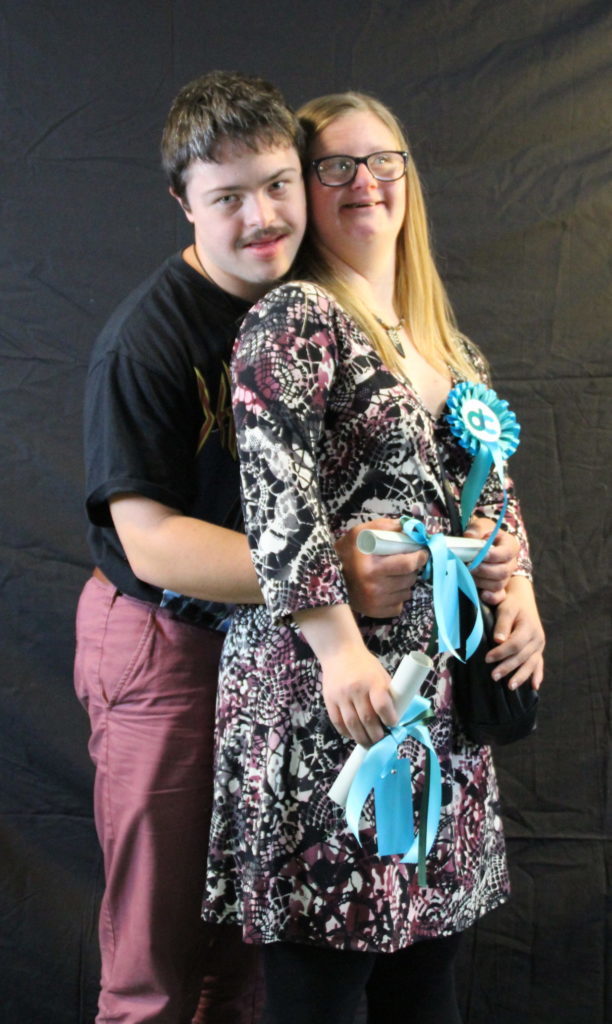 The pair's eyes first met whilst they were both students at Derwen College – a national residential specialist college in Shropshire. Despite supporting rival football teams, they hit it off immediately.
Anna and Joe have now been together for five years, and are looking to move into their first home together. They are currently featured in Channel 4 documentary Home Free.
Anna and Joe are two former Derwen College students who are starring in Channel 4 documentary Home Free, which follows young adults with special educational needs and disabilities as they move away from home into supported living.
The first part of Home Free was screened last week and episode 2 will be screened tonight (Monday, 25th November) at 10pm.
Anna, who left Derwen College in 2018, has fond memories of her time at College – her first real experience of living away from home. Joe left Derwen in 2016, two years before Anna, but the pair kept in touch, Joe would visit Anna at College and they would meet up in the holidays.
Anna remembers her time at college as "amazing". Not only did she meet her fiancé Joe but also learnt work and independence skills, and enjoyed social experiences including appearing in the annual Christmas show, taking her Bronze Duke of Edinburgh's Award and joining the ladies football team.
She learnt skills in Hospitality and Retail gaining work experience at the College's print shop and farm shop as well as at off-site work placements in a supermarket and hotel chain Premier Inn. Anna now has paid employment working in the restaurant at her local Premier Inn one day a week.
She lived in Agnes Hunt Village bungalows – a village complex of bungalows accommodating students, preparing them for a more independent life in supported living on leaving college. She shared the accommodation with friends and benefited from Independent Living Skills sessions where she learnt valuable skills such as shopping, laundry, healthy eating, money handling and self-medicating.
She says: "Derwen was amazing.  I made friends, met Joe, and learnt some cooking."
She says pizza and bacon butties are her speciality dishes.
Mum Maria says that Anna's time at Derwen College was wonderful, though she admits it was hard for them to move on to the next step after such a life-changing experience.
"Anna's time at Derwen was invaluable. Living in the bungalows gave her the experience of living independently in a safe environment where she didn't need night-time support and could freely go and visit friends in another bungalow independently. She was so happy with her way of life there," says Maria.
Since appearing on the television, Anna has received a fair amount of attention, though she's unfazed by her new star status and is carrying on as normal working at Premier Inn, enjoying swimming and cycling, and attending a local skill centre and inclusive theatre group.
"I get asked for autographs," she laughs
As to the future, Anna and Joe's dream is to live together as any other couple. Since the programme was filmed last year, the two of them are still living back at home with their parents.
Maria says: "Anna and Joe know what they want but we have to be patient. The supported living model is usually shared accommodation with young tenants sharing together. Anna would like to have a home where just the two of them could live. It's not the usual plan for couples to be together. It's what they both want but it's proving to be a more difficult process than we'd thought.
For Anna, it's just about being with the person she loves, and their 'date nights' have just made their wishes even clearer. Anna says that her and Joe never fall out despite what Mum Maria jokingly refers to as a 'mixed marriage' – Anna supports Everton and Joe supports Liverpool.
"Of course it is hard to let your child move away from home but I was always convinced that it was the best thing for Anna's future," says Maria.
"I hope that the programme will raised general awareness of what young people with learning difficulties can achieve given the right support."