An actor and a scriptwriter from popular soap Hollyoaks delighted an audience of performing arts students, when they visited a Shropshire specialist college this week.
Hollyoaks actor Gabriel Clark, who plays Ollie Morgan in the Channel 4 soap, and scriptwriter Jayshree Patel dropped in at Derwen College, in Gobowen, to talk to a captivated audience of students.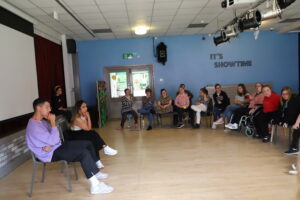 The pair answered questions on a variety of topics relating to acting, writing and Hollyoaks. They inspired students and staff, while also entertaining them.
Gabriel, who has acted in Hollyoaks for a year and a half, explained to students how excited and surprised he was to be first told he had the part. "I was on holiday in Italy with my family when the call came. My screen test and auditions had all been virtual, so it was a strange process. I had to get straight back on a plane to start work two days later. I hadn't even had a chance to meet the cast, so my first line: 'Hi, Dad', was the first time I'd ever spoken to the actor playing my onscreen dad."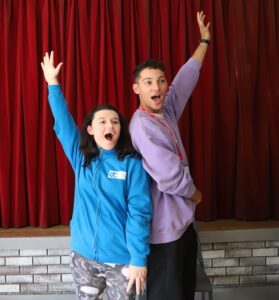 Gabriel said he's always acted, and always liked to tell stories. "Actors are just people who never want to grow up and want to keep on playing!" he said. Gabriel joined Hollyoaks to play a role previously played by a different actor. Though, he said, this didn't faze him. "I've played Hamlet on stage, which has been played by countless actors before. There have been 13 Doctor Whos and seven James Bonds. In some ways it was easier, as a lot of the usual research and background I do for a part had already been done."
Offering advice on getting into acting, Gabriel said: "You have to accept that you're never always going to get everything right. Take risks and don't take yourself too seriously. "Be the best storyteller you can be. Go to the theatre, enjoy film, television, books and art and approach everything with a child-like wonder. "Make your own films, and create your own stories. Nowadays, everyone has a phone so anyone can make their own content and share their own stories. "Always be cheeky and ask and put yourself forward for opportunities. Send directors examples of your work. Or suggest ideas for future themes and ideas. If you don't ask, you don't get!"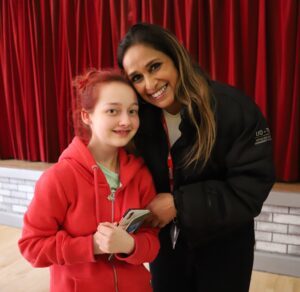 Writer Jayshree Patel was previously a teacher before taking a creative writing course, and winning a screen writing competition. She has gone on to write 35 episodes for Hollyoaks. Both Gabriel and Jayshree talked about the transferable skills they have learnt in every job they've done. While Jayshree was a teacher two year ago, Gabriel was serving pizza in Manchester.
Jayshree talked about transferable skills, and how every job is an opportunity to learn. "I find my teaching skills are really useful in writers' meeting when everyone's talking at once and I need to calm everyone down," she says. "It's important that whatever you're doing in life, you do it the best you can!"
Jayshree said how she loves writing for Hollyoaks, and particularly enjoys the fact that the show is often breaking barriers and is a diverse and inclusive place to work. "It's important to see people like yourself represented on television. It can make a world of difference to someone who feels like they don't fit in because of their colour, sexuality, disability or beliefs." Gabriel, who is gay and a proud champion for LGBTQ+ rights, agrees.
"Growing up, I didn't see many gay actors and thought it would affect my career. I wished I'd had more acting role models growing up."
Jayshree, who has a daughter who is autistic, said: "I think it's important, where possible, for an actor who genuinely has that condition to play these roles, rather than someone pretending. "We have an actor and writer who are autistic. Being inclusive is not about doing people a favour, it's about making the most of everyone's differing skills and talents."

Derwen College is proud of the links and expertise gleaned from visiting speakers. This year, Performing Arts students have been lucky enough to have visit from soap and theatre actor Sam Retford who has appeared in Coronation Street, Hollyoaks and Ackley Bridge. As well as visits from local experts including industry champion Chloe Yeomans from Chloe Elizabeth Dance Company.
To find out more about being a student at Derwen College visit our website.
---