Two of our students will be meeting their favourite rock star when they attend their first ever gig on Friday.
Students Joe Osborne and Ethan Palmer-Barber are going to see rock band Hardline at The Tivoli, in Buckley.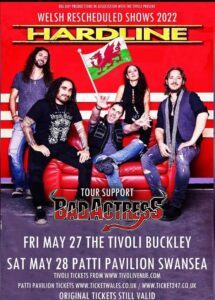 Lead singer Johnny Gioeli has arranged to meet the two fans for photos and videos before the gig. Joe is even hoping to get the chance to do a quick audio interview with Johnny for the new student podcast 'Break Time Chat', created in Digital Skills.
Johnny Gioeli sent a video message to the super-fan students during the pandemic. Johnny is also the vocalist for rock band Crush 40 who have written and performed several songs from the Sonic the Hedgehog series produced by Sega and Sonic Team, including the theme tune 'Sonic Heroes'.
In his original video message, Johnny said:
"I want to thank you from the heart for your support for loving all of the Crush 40 tunes and for supporting me through my entire career."
He also promised to try to meet them both in person when he was able. Joe and Ethan are delighted that he has kept his pledge.
Derwen's Digital Skills sessions cover the essential digital skills framework of: using devices and handling information, being safe and responsible online, transacting, communicating, and with particular focus on creating and editing.
Digital Skills at Derwen is involved with all the pathways, while also giving the students the ability to transform some of their unique and exciting ideas into audio/video/photographic projects for everyone to enjoy.
"In the digital age that we now live in, the ability to create using audio, video, and photography have become essential skills in both communication and promoting oneself, no matter what area of work/hobby you are engaged with."
---