Students taking part in their first ever 10-kilometre race will be among hundreds expected to challenge themselves on our Derwen College Charity Sponsored Walk and Fun Run on 28 May.
Students Harry, Joe and Maisy have been training to run the Derwen Sponsored Walk and Fun Run.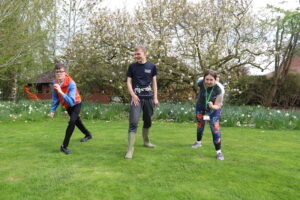 Retail student Joe and Hospitality & Food student Maisie have been part of a new Couch to 10k Club set up especially for the occasion, and this will be their first ever 10km run. Horticulture student Harry will be swapping his wellies for trainers to run the course in record time.
Joe said: "We've trained really hard, running with Sports Instructor Sian Thomas every week. We can't wait to complete our first 10k. It's going to be hard, but we can do it, even if we have to walk some of it!"
We're also excited to have a first ever team entry for the Sponsored Walk. Members of West Mercia Search and Rescue will be carrying a stretcher and patient on the 6k version of the walk route. Six members of the Search and Rescue team, headed up by their Fundraiser, Andy Neale, hope to raise funds for Derwen College Charity and their own service for their efforts.
For the first time ever, this year's walk will be combined with the Summer Fete, with both events taking place on 28 May from 10am. We're excited to be welcoming visitors to the our Derwen College campus in Gobowen, for what will be a fun-packed event for the whole family to enjoy. All funds raised from the event will be used to support people with special educational needs and disabilities (SEND) who work, study and live at Derwen.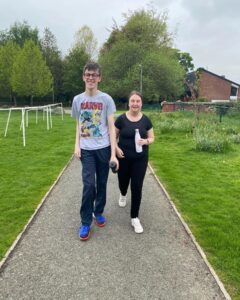 As well as a great 10k sponsored walk and fun run, which starts and finishes at College, there will also be a summer fete taking place at the campus. Entertainment will include a bouncy castle, games and activities, and a food and craft fair featuring some of the best local artisans.
We'll also be showcasing our own food, and for the occasion will be selling over 10 flavours of homemade Derwen ice-cream. Also on sale will be special edition jams and chutneys to mark the Queen's Jubilee. The Orangery Restaurant will be serving scones and home-made jam.
Derwen College fundraiser Anna Evans said: "We are absolutely delighted to welcome supporters, students and the whole community back to our ever-popular Sponsored Walk and Fun Run.
"It's particularly exciting to see students like Harry, Joe and Maisie working hard to get fit and raise sponsorship for Derwen Charity.
"We're really happy that the West Mercia Search and Rescue team are involved in a team challenge, and are hoping that other local businesses and some of our staff might be inspired to follow suit.
"We're hoping to see a record number of walkers and runners signing up, as well as lots of shoppers and visitors coming along to enjoy the fun. Ultimately, we also hope to raise lots of money for Derwen College Charity."
More information about the event, including registration for the walk, is available via the Derwen College website or by calling us on 01691 661234.
---