Derwen College tutors helped to spread the Makaton magic when they attended a national magician's conference in Shropshire.
Makaton tutors Julie Hawkins and Jessie Vaughan delivered a signing session to magicians at Trix in the Stix.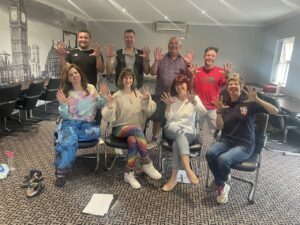 The event was held at Lion Quays Waterside Resort in Weston Rhyn, this week.
The Makaton sessions were requested by children's entertainers at the event. They recognised the value of using Makaton signs and symbols to support children's understanding and communication.
Derwen College is Makaton friendly with an expert Makaton training team including Senior Makaton Tutor Julie Hawkins.
This was the 10th annual conference and featured entertainers from across the country and even one from Germany.
Julie and Jess attended the event to offer a taster session. They taught 20 common basic signs and symbols. They also taught 14 specially requested signs, including 'magic', 'magician', and 'supersonic sausages'!
Derwen College is incredibly proud to be officially Makaton Friendly, offering students a helping hand to communicate. We believe it is vital that students are understood, and that they should be given every opportunity to communicate their feelings and needs.
Makaton signs and symbols support communication and increase understanding between students, and between students and staff, helping to extinguish some of the frustrations that students feel at not being understood.
Makaton also allows staff to better explain what is expected of students in their work area, residence or free time, and to recognise and communicate quickly when there is an issue.
As a College, we are proud to be able to offer Makaton expertise. Julie is a Senior Makaton Tutor, and has a team of Regional Makaton Tutors and Local Makaton Tutors. All staff complete basic Makaton training as part of their CPD.
---