Two of our Performing Arts students demonstrated their stage skills when they took to the stage in a sell-out production of Me and My Girl, in Whitchurch.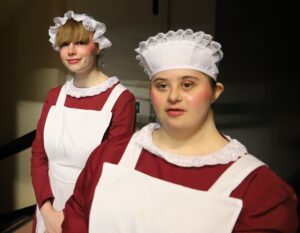 Performances were held every evening with a Saturday matinee.
The students, from the specialist further education college near Oswestry, started rehearsals back in September as a regular work placement. They were asked to complete auditions, and sang 'Once You Lose Your Heart' to the director and two colleagues. Anna and Nicole were awarded parts in the chorus where they also played maids, cockneys and party guests.
They were put in contact with the group by cast member David Pearce, who is also Hospitality and Food lead at the College for young adults with special educational needs and disabilities (SEND). They were driven to and supported in rehearsals by Abi Baker, Lin Hughes and Shannon Walker. Derwen College Retail students also printed the tickets and banners to promote the show.
Work experience with a difference
Work experience and Supported Internship coordinator Abi Baker thanked the society for their support, and said how proud she was of Anna and Nicole.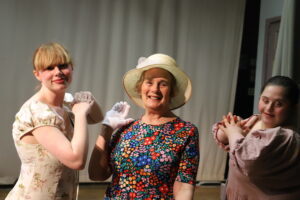 She said: "What they've learnt from his experience is amazing. I'm immensely proud of them. There was so much to learn, including lines, songs, stage cues, and where to stand on stage. All of this on top of long evenings and late nights. The audition was a brilliant – if nerve-wracking – experience for them too.
"They had to be flexible; transferring their skills from rehearsal space to Whitchurch Civic Centre main stage just three days before the performance, progressing to formal dress and technical rehearsals.
"As well as the performing arts skills, they've also achieved other important outcomes such as talking to and working with unfamiliar people. It was lovely to see how involved they both got with the rest of the cast, and how supportive the entire cast were. The final night was an emotional one, with lots of hugs and tears.
"Work experience is an important part of learning for the majority of students and supported interns at Derwen College. The support of community groups and businesses is vital to the College's mission of enabling students to achieve their future ambitions."
Curtain up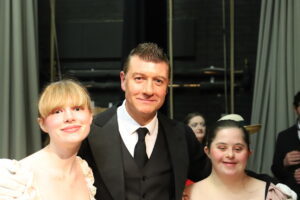 Performing Arts students from the College came to support Anna and Nicole on opening night, with an additional college trip organised for Friday. Anna and Nicole's families also came to watch.
Rose Hall, producer at WAODS said:
"It has been a pleasure working with Anna and Nicole, two very talented individuals.  A massive thank you to them! We'd also like to thank the whole of the performing arts department at Derwen College for making the opening night of Me and My Girl a very memorable and special moment. They made for a fabulous and energetic audience and gave us the lift we needed having spent such a long time working on the production. It was lovely to have such energy responding to us on stage!"
Student performer Anna said: "We learnt about all the different roles in the theatre. It was fast moving with lots of people on and back stage. That was sometimes difficult, but brilliant experience. I found it nerve-wracking especially when there were people I knew in the audience. But I loved it especially wearing the party dresses at the end."
Nicole said: "The hardest part was trying not to laugh at the funny parts! Nigel, who played Bill, was funny and David, who played Gerald. Learning lines was quite difficult, but I loved it all!"
As Performing Arts students, Anna and Nicole are both looking at pursuing their love of acting in the future, whether as a hobby or career.
For more information on learning at Derwen College, or on how to support a student with  work experience opportunities go to www.derwen.ac.uk.
To find out more about WAODS go to www.waods.net.
---