As a Retail and Enterprise Pathway student we will teach you industry standard vocational skills to enable you to find employment in retail and business environments.
Students on the Retail and Enterprise Pathway will learn how to:
Communicate appropriately with colleagues and customers.
Provide customer service.
Use different ICT formats from computers and printers, to tills and vocational apps.
Sales to customers and businesses.
Print a range of publications from leaflets and posters, to banners and labels for clients.
Through these experiences you will learn a range of Employability Skills.
Learning takes place in both classroom and in hands-on work-based areas of the college. Derwen College has a Garden Centre and Gift Shop, Karten Print Shop, and The Vintage Advantage – our on-site charity shop, that are open to the public and offer real-life work experience opportunities.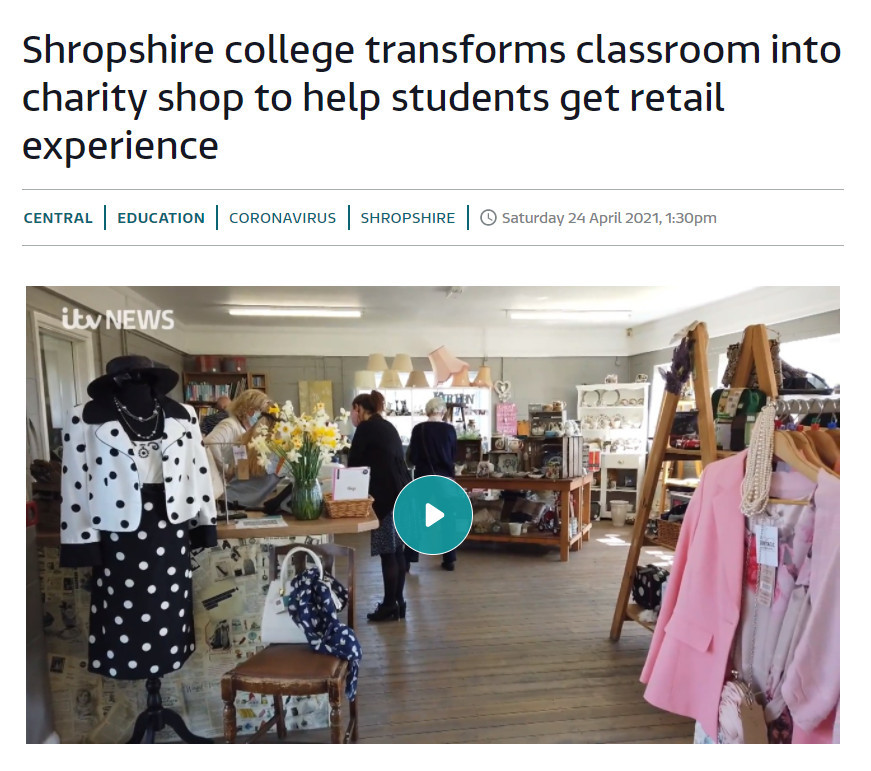 Watch The Vintage Advantage's recent feature on ITV Central News.
We will teach you relevant skills to gain Retail and Enterprise vocational qualifications appropriate to your learning needs. These qualifications include:
Agored Cymru Extended Award in Retail and Admin – Entry 1 / Entry 2.
City & Guilds Award in Introduction to Retail Skills – Entry Level 3.
City & Guilds Award / Certificate in Retail Studies – Level 1.

As well as learning vocational skills, we will give you the opportunity to develop skills and gain confidence in other areas:
Social situations – you will meet lots of different people on your learning journey. From peers and staff to customers and other members of public. Social situations will be part of your daily routine.
Independence – as you learn new skills you will become more confident in working independently. The level of independence will be different for everybody.
Reading – you may be reading instructions, messages on computers or printers, or buttons on the till. Reading – at your level – will be embedded throughout your work.
Writing – your written work may be through the use of Makatons symbols, emails, or hand written diaries.
Numeracy – you may be counting leaflets for an order, taking payment and giving change for a purchase or using the photocopier for a customer order. Numeracy is embedded into sessions in a way that is unique to you.
In addition, you will have access to discrete maths and English sessions if it is recognised it will benefit you.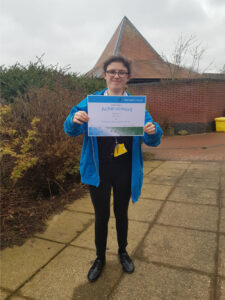 At Derwen College we continuously recognise students' progress and achievements. Regular recognition awards include 'Student of the Term'. Mary (right) won this award in Spring 2021 for her excellent work.
Read more about former Retail and Enterprise students in our case studies.
Work placements
As you progress through your course, you will have the opportunity to undertake internal work placements. Work placements give you the opportunity to do vocational jobs in a familiar environment before moving on to an external placement.
We work closely with local teams and national businesses, including:
You may be offered bag packing, training days and tour experiences before undertaking an external work placement.
Other opportunities on the Retail and Enterprise pathway
You will have many other opportunities as a Retail and Enterprise Pathway student. This could include taking part in annual competitions or getting involved in charity and community events. Students take part in bag packing at Tesco, Sainsbury's and Morrisons which also raises money for Derwen College Charity.
Retail and Enterprise students may also have the opportunity to attend community meetings. At the Oswestry and District Access Group voice their opinions relating to accessibility in and around the local area when invited to attend community meetings such as with .
How to Apply
Further information can be provided by the Admissions Team on:
Tel: 01691 661234 ext 401 or Email: admissions@derwen.ac.uk
Keep up to date with the Retail and Enterprise Pathway on Twitter and Instagram.