Derwen is working with branding specialists Design by COUNTRY. Together we are creating a brighter, more engaging online and on-campus presence. The aim of the rebrand is to be fully accessible and to have a brand which reflects our forward-thinking approach.

The rebrand will be used across the College's main site, as well as satellite sites for day students at Telford, Walford (near Shrewsbury), and Ludlow.

The College and rebrand experts Design by Country are in the process of consulting with students, staff, clients, families and stakeholders to get a real feel for what Derwen is all about. We have already enjoyed two lively workshops – one with staff and governors, and one with the College's Student Union Board. These have already offered up plenty of interesting and diverse ideas.
Accessibility is key
Accessibility is key to the new branding. The college will be working with COUNTRY, and The National Autistic Society to ensure that all new branding, signage, and website design are accessible to all current and potential stakeholders.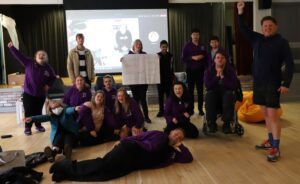 Derwen College Principal and CEO Meryl Green said:
"As a leading further education college, it is vital that our branding reflects that we are a forward-thinking college. But also that we are caring, collaborative and passionate about doing the very best for our students.

"Accessibility is also of utmost importance, across College sites and online, for students, potential students, families, staff and visitors to our commercial areas.

"It's a challenge, but we believe that through our partnership with Design by Country, we can deliver."

Design by Country director Warran Brindle said:
"At COUNTRY, we are passionate about specialist education and in particular designing truly accessible brands and digital experiences. Our strategic creative process is inclusive by design, involving students, staff, stakeholders and customers to make sure we capture the essence of the brand. It's an honour and a privilege to have been chosen by Derwen to deliver their rebrand, wayfinding and new website."
---