Get involved in charity governance.
Become a Board member at Derwen College.
Are you interested in being involved in the strategic planning and oversight of a charity and a college?
Can you spare some time each year to volunteer?
Then why not be a governor or a co-optee on our Board and/or one of our Committees?
Board member roles
We welcome interest from anyone who would like to find out more about the role of Board member of Derwen College. Although the make-up of the Board evolves over time, we usually seek a range of governors with experience of and skills in the following areas:
Further Education;
SEND;
Care sector;
Charity sector;
Business;
Accounting/financial.
If you have skills and experience that you can bring to governing a complex and multi-faceted organisation, please get in touch. Even if there are no vacancies at that time, we are still keen to have an early conversation.
What's in it for you as a Board member?
Becoming a Board member allows you to see the positive work that Derwen College does with young people with special educational needs and disabilities.
As a charity trustee you have the opportunity to gain new skills and experience that can also help you develop your own career.
Being a core part of a local charity, and college, contributing positively to the lives of people with SEND.
Volunteering alongside a group of other committed individuals, to set the strategic direction of this long-standing and outstanding college.
Developing your own skills at operating within a Board structure, and in governance.
Working alongside a professional executive team for the overall benefit of the organisation.
View our digital prospectus for more information about Derwen College.
What's the commitment for Board members?
Barbara Court, is one of our current Board members. Find out more about being a governor, from her point of view.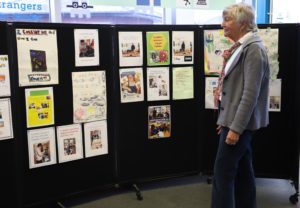 I recognised that Derwen College is a complex organisation and that being a governor would provide me with opportunities to learn more about not only issues related to my previous experiences, but also new ones, i.e. care and working with people with disabilities among others.
Download the role descriptions (below) for a governor and for a co-optee for more information about what's involved.
Role Description – Governor
Role Description – Committee Co-optee
Download an application form here.
Further information
For an informal conversation to talk about the role or arrange a visit, contact Carol Thompson, Clerk to the Trustees
carol.thompson@derwen.ac.uk, 01691 661234 ext 291
All appointments are subject to an interview, enhanced DBS checks and suitable references.