At Derwen College students use ICT throughout their working day and also have access to computers in their leisure time. Wifi is available in teaching and communal areas.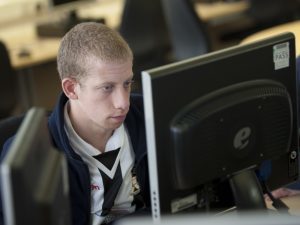 Computers are available in the Bradbury Centre for students to use ICT during break, lunch, evenings and weekends.
Students can bring their own ICT devices to college. Wifi is available in the Bradbury Centre, Student Union and communal areas of College residences. Please note that wifi coverage in bedrooms is not guaranteed at this time.
Internet support and monitoring
Internet access is protected by the College web-filter and monitoring systems, complying with relevant legislation including the Prevent Duty.
Derwen College provides support with student devices as far as is reasonably possible.
In case of loss or damage, please include student ICT devices on your home insurance before they start college.
Staff in residences are able to support students and clients to access the wifi.
Social Media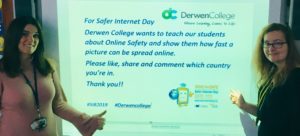 As the use of social media increases, we continue to support those students who want to use it.
Should any student wish to use Facebook whilst at college they are required to add 'Emma E-Safety Dodd' as a friend. This allows designated staff to support students when required.
Each year Derwen College takes part in Safer Internet Day with a series of awareness raising activities. In 2019 the students posted a picture on Facebook with public settings to demonstrate the far-reaching power of the internet.
The photo (right) was shared over 350 times across the world, reaching more than 19,000 people. People commented and shared from Australia, Abu Dhabi, Spain, Singapore, Mexico, Caribbean and New Zealand, as well as across England and Wales.
Contact Emma Dodd (on 01691 661234 ext 215) if you have any concerns regarding online safety.