Derwen College students impressed judges, when they showcased work skills and reached the national finals of WorldSkillsUK.
Four students from Hospitality & Food demonstrated their catering and table laying skills. Four students from our Ludlow satellite campus took part in the Media competition finals in World Skills competitions.
The competitions were held on 17 November, and judging took place live via online Teams call.
Hospitality & Food competitions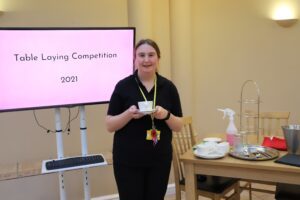 Peter and Aaliyah made it through to the World Skills competitions final in the catering competition. They were tasked with cooking and presenting a three-course meal comprising a cold starter and grilled meat kebab in a dough product. This was followed by a fruit salad made of five different fruits, and presented in the shell of a fruit. Anna and Maisy were finalists in the Restaurant Service competition. They were asked to set a table for two for an afternoon tea with an Armistice Day theme. This involved wiping and polishing glasses, cutlery and crockery, creating a centrepiece and presenting the table.
Media competitions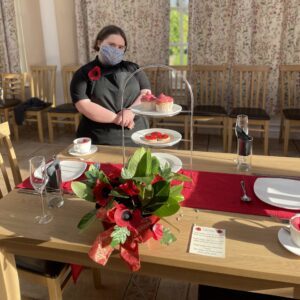 For the media competition, Business Support and Enterprise students Louis, Logan, Iman and Jeffrey, produced a media campaign focused upon Respect. The students, from our new Ludlow campus, completed a design and marketing idea from scratch. They conducted research, produced a board game, designed a logo, a web page and a poster, and created a PowerPoint presentation. They even composed and sang a song for a radio jingle. All within the allocated two hours!
Overall medal winners will be named by presenter Steph McGovern on her Channel 4 television programme Steph's Packed Lunch on 26 November. The WorldSkills UK virtual medal ceremony of the National Finals will be broadcast from 4pm on Friday 26 November live from the 'Packed Lunch' studio. The virtual medal ceremony will also be broadcast on the WorldSkills UK event platform  
---