Hospitality students who do work experience in Hotel 751, were given 30 minutes to complete a skills competition to clean and replenish a desk and condiment tray.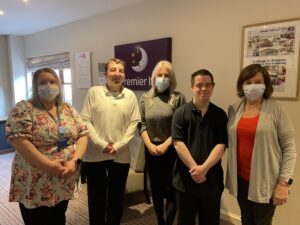 The skills used are those required by housekeeping staff of Premier Inn and help prepare students for work at Premier Inn or other hotels. Students were supported if necessary by teachers Gemma Comerford and Katie Roberts.
Competitors were expected to take away dirty crockery, to know which cleaning equipment and chemicals to use to clean and sanitise the desk, empty the bin, and how to correctly and tidily set up the condiment tray, menus, cups and glasses.
The competition was judged in strict competition conditions by Work Experience Coordinator Abi Baker and Hospitality teacher Yvonne Daniel.
Students Brendan, Patrick and Amy took part.
Amy said: "The judges had messed up the desk to make it difficult! It was good experience. I wasn't nervous and knew most things without help."
Judge Abi said: "They all did really well, and demonstrated how they can work independently in our training hotel to industry standards."
Yvonne added: "It was good to see that all three students have shown progression within their housekeeping skills.
Curriculum Manager Jen Fawcett-Jones stressed the importance of competitions for developing students' work skills. She said:
"In-house and external competitions are held across all pathways and provide valuable experience to our students, and the opportunity to showcase their learning and skills."
The College's Hotel 751 is a three-bedroom training hotel which was created in a partnership with Whitbread owned Premier Inn. Students learn in the training hotel, before progressing to external work placements at Premier Inn and other hospitality environments. Currently, 21 of our former students are now employed by Premier Inn.
---