February 2021: Please note – Hotel 751 remains closed until further notice. Students continue to work in this area, learning key skills. We look forward to updating you when we have a re-opening date. In the meantime thank you all for your support and custom.
---

Enjoy a stay at Derwen College.
When you stay at Hotel 751 you support Derwen College learners on their training journey.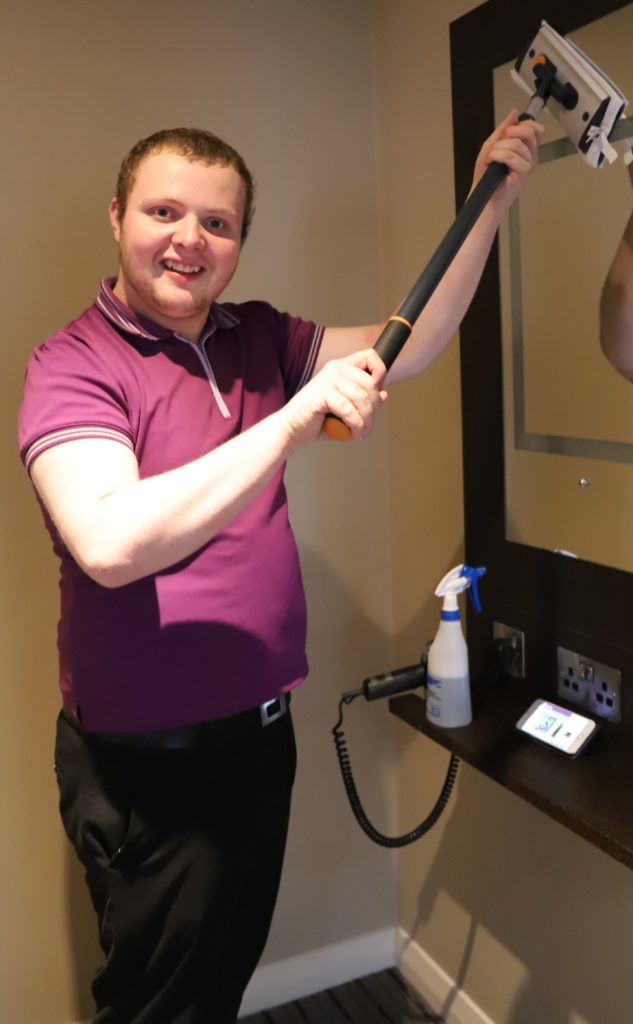 Stay at Hotel 751 – the first Premier Inn training centre of its kind in the country. In 2019 it opened its doors for room bookings.
At Hotel 751 students learn housekeeping and reception skills while accessing invaluable work experience placements at local Premier Inn hotels. The reception area, three en-suite bedrooms and linen room creates a real work setting for our learners.
This amazing training facility first opened in 2017. Enabling students to access industry standard training in hospitality, the skills they learn here helps to improve the chance of gaining employment after college.
The aim of Hotel 751 is for learners to complete their training and secure a work placement at their local Premier Inn when they return to their home area.
Premier Inn and Derwen College have worked together since 2013. Early discussions resulted in the first Premier Inn training room opening at Derwen in September 2014. The converted room allowed students to familiarise themselves with Premier Inn's routine before they started work placements at local branches. Consequently this helped to maximise work experience opportunities.
Hotel 751 however has taken the training facilities to a higher level. Walk into reception and you are transported to a genuine hotel setting.
Book your stay at Hotel 751
Stay at Hotel 751 during term time. The hotel has three en-suite bedrooms, one of which is an accessible twin room with wet room.
In the morning enjoy a breakfast hamper in your room, or make your way up to the Garden Cafe to have breakfast in our renowned cafe.
Email*: enquiries@hotel751.co.uk
Telephone*: 01691 779200
*Please note that student groups answer your calls and email enquiries during afternoon sessions. Therefore your enquiry will be answered Monday to Friday, during term time only.