Our Garden Centre team were delighted to provide £1,000-worth of plants as part of a project to brighten up the local railway station.
We supplied plants to Kier construction company, who are contracted by Network Rail to deliver improvements at Gobowen Station.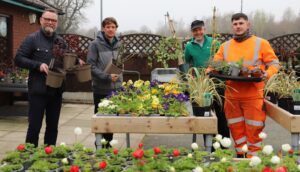 James Palmer and Jordan Price and from Kier visited the college. We were able to advise on perfect plants for the station grounds. Plants chosen included roses, clematis and a selection of fragrant herbs.
Kier are committed to supporting inclusivity in the workplace. So were pleased to be able to buy their plants from us. Horticulture students at the College work in the Garden Centre in weekly work placements in preparation for work after College.
As you may know, our Hospitality & Food students already work at the Station Café at Gobowen Station. They work in the cafe a partnership with Severn Dee Travel.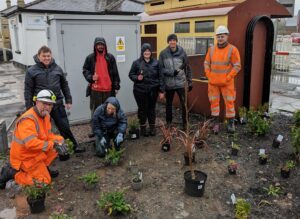 Derwen Commercial Development Manager Pete Evans, said the College was very happy to be able to advise on and provide planting for the station.
He said: "We have a long-running partnership with Gobowen Station, and are delighted that Kier – a business who share our ethos of inclusivity and diversity – have chosen us to support with the planting at the station."
---