These phenomenal achievements are on top of their vocational learning and training in Business & Enterprise, and internal and external work placement opportunities.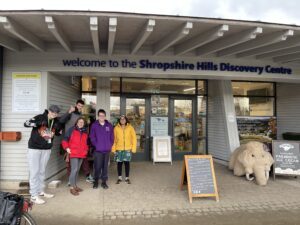 The staff at Ludlow are proud to enable students – from mainstream or specialist schools – to be themselves, guiding them to be more confident, independent individuals, and to reach their aspirations. Derwen is a ' place of possibility'.
Derwen College Ludlow, at Eco Business Park, provides Business & Enterprise training, qualifications and work experience opportunities to young people from south Shropshire and the surrounding counties. Students learn business skills in customer services, money handling, sales and marketing skills, and also develop skills in independence, health and wellbeing.
Two students have recently been awarded their Silver Duke of Edinburgh's Awards, a challenging award were young people take part in expedition, volunteering, a skill and physical activity. Iman and Jeff demonstrated the commitment, hard work and teamworking skills necessary to achieve this inspirational award. Iman and Jeff were part of a group of students, who braved gruelling treks through Shropshire and the Welsh borders countryside, facing inclement weather and blisters along the way. They were presented with their certificates by Satellite Manager Peter Leddington.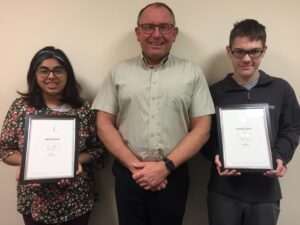 Earlier this year, a team of students showcased their business skills when they entered World Skills UK virtual competitions. The Ludlow team won a Bronze medal in the Media Foundation Skills competition for a media campaign focused on the theme of Respect. The students conducted research, and produced and marketed a board game. As finalists, they were announced on Channel 4 by television presenter Steph McGovern, live from the 'Steph's Packed Lunch' studio.
Students also held an Art Exhibition at Shropshire Hills Discovery Centre in Craven Arms. The exhibition featured 28 exhibits produced as part of their wellbeing sessions. Feedback from visitors, including students' families and friends was overwhelmingly positive.
A visitor (and parent) said:
"I was really impressed with the quality of the work that the Derwen students produced. The pieces were beautifully presented, finished to a very high standard and the interpretation notes by each piece added to the impression that they were unique to each artist and had taken a lot of thought and effort.
Louis was very proud of his work and that of his fellow students. It was also very rewarding for him to see members of the public admiring the work as well. To achieve such a high standard of work and have his work exhibited in a public space alongside that of other artists meant a lot to him."
Derwen College Ludlow enjoys a mutually beneficial working relationship with the Discovery Centre. The Centre sells gifts, products, cards and seasonal hampers created by business students. Most recently, their Mother's Day hampers have been particularly popular.
Student Louis, also attends the Centre as external work placement every Friday. Jeff works with the Onny Meadows Wildlife Volunteer Group, led by Ian Cheeseborough.
Louis loves his time with the Onny Meadows volunteers. He says:
"They always welcome and support me. I've learnt skills like how to use a bow saw, coppice trees and identify different animal calls, including the Moor Hen.

"I love the outside environment and am happy to work there.
One of his fellow volunteers confirms that the feeling's mutual. She says: "my volunteering is enriched by having Louis in the group.
Fellow student Jeff, has a placement at Shropshire Museum Collection Centre, based in Ludlow Library. As part of his role, he inputs data and scans and catalogues historical documents.
He says: "I feel that this work is showing my skills. I am interested in working in ICT in the future, and feel that I'm making great progress towards that goal. It's a fantastic experience."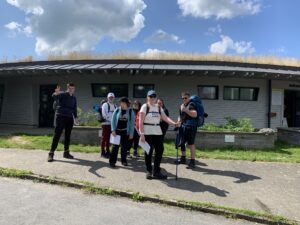 With a smaller cohort and a bespoke timetable, Derwen College Ludlow is able to support students with a wide variety of special educational needs and disabilities (SEND), autism, and challenging behaviours.
The College campus, which moved to Ludlow last year, has seen learners who previously felt anxious or uncomfortable at school or college, develop into self-assured adults, ready for employment or further training, and a more independent future.
Louis enjoys his time at College, and is proud of what he has achieved.
He says: "I have fun at College and can't wait to tell my parents what I've achieved that day. They are proud of me, and I feel proud of myself."
---