Derwen College has supported young adults with learning difficulties and disabilities to take part in the Duke of Edinburgh's Award since 2014.
Derwen College was the first provider in Shropshire to run the Duke of Edinburgh's Award to a group of participants with Special Educational Needs and Disabilities (SEND).
The College began offering the Award in September 2014 with 11 students registering for the Bronze Award. In the seven years since, 262 Awards have been achieved by 166 students.
Steve Evans, Derwen's
DofE
leader and Sports Coordinator, believes that the
DofE programme
complements Derwen College's
vision
: To create
A world without barriers for people with SEND
.
"The DofE programme challenges our students, giving them opportunities to develop skills for life and work. It promotes independence, pushing young people out of their comfort zone."
"Our students have additional needs such as Autism, physical disabilities and communication difficulties. Despite these difficulties they go above and beyond to achieve. We see young people come through the programme with raised self-esteem and increased confidence."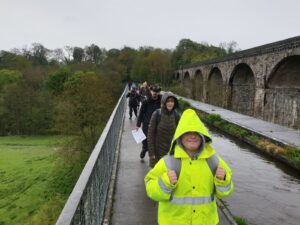 The Duke of Edinburgh's Award is recognised nationally and is the world's leading youth achievement award. It gives the participants the chance to develop skills for life and work, to fulfil their potential and have a brighter future.
Each section of the Award gives students an opportunity to be independent, to grow in confidence and to be challenged as an individual – something we actively promote throughout Derwen College.
Duke of Edinburgh's Award Sections
Derwen College supports and guides students with each section of the Award. The Duke of Edinburgh's Award is an inclusive programme. It can be tailored to the individual, ensuring that each student gets the opportunity to take part and achieve.
The Duke of Edinburgh's Award involves completing four sections:
Volunteering
Physical activities
Skills
Expedition.
For participants on the Gold award, there is also a residential section.
Find out more from the DofE website or by following the links below: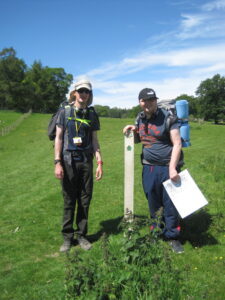 Volunteering
Volunteering is about making a difference to other people's lives. It enables you to give your time to help others, change things and make a positive contribution.
Derwen College is a registered Charity so there are many opportunities on campus to meet the criteria for the volunteering section. Whether it be volunteering in the gardens, in the Charity shop or helping other students and staff at Derwen, there are plenty of ways to meet the criteria for the volunteering section.
Physical
The Physical section is a chance for you focus on your health and fitness. It gives you the opportunity to work towards a healthy lifestyle and contribute to your physical and mental wellbeing.
Physical activities are included in your timetable and can include football, dance, gym work, spinning, swimming and walking. There are many activities to choose from and the challenge isn't against others, it is against yourself.
Skills

The Skills section encourages you to develop practical and social skills and pursue your personal interests. It is an opportunity to learn new skills and discover new things.
Learning new skills can make you more confident and increase your self-esteem.
Expedition
All awards involve planning, training for, and completing an expedition. Expeditions include camping overnight and preparing meals using camping equipment.
The type of expedition and the number of nights away depends on the level of the Award. For Bronze participants, this is two days expedition with one night away. Silver, three days and two nights away. The Gold award involves three nights away and a four day expedition.
Residential
The Residential section is for Gold Award participants only.
At Derwen the residential involves five days and four nights away from home, meeting and working alongside new people. The residential is all about having new experiences, in a new environment and gaining new life skills.
Duke of Edinburgh's Award 2021
Watch our compilation video of images from the 2020/21 award groups.
Bronze Award
Silver Award
Gold Award
Click here for our Duke of Edinburgh's Award video and image archive