Derwen College has been supporting young adults with learning difficulties and disabilities through the Duke of Edinburgh's Awards programme since 2014.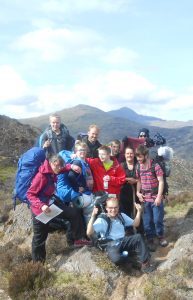 At the time it was the only Duke of Edinburgh's Award programme running throughout the whole of Shropshire for people with additional needs.
Steve Evans, Derwen's DofE leader and Sports Coordinator, believes that the DofE programme complements Derwen College's vision: To create 'A world without barriers for people with SEND'.
"The DofE programme challenges our students, giving them opportunities to develop skills for life and work. It promotes independence, pushing young people out of their comfort zone."
"Our students have additional needs such as Autism, physical disabilities and communication difficulties. Despite these difficulties they go above and beyond to achieve. We see young people come through the programme with raised self-esteem and increased confidence."
As well as gaining a nationally recognised award, achievement of the DofE demonstrates commitment and dedication. This results in students developing problem solving, independent thinking and leadership attributes – skills that can be used in other areas of life.
The DofE programme is recognised as the world's leading youth award and can enhance employment and independence – something Derwen College actively promotes.
Bronze Duke of Edinburgh's Award expedition 2018
Image Gallery
Silver Duke of Edinburgh's Award expedition 2018
Image Gallery
Gold Duke of Edinburgh's Award expedition 2018
Image gallery
Find the 2017 Duke of Edinburgh's expedition videos at:
Bronze DofE Award expedition 2017
Silver DofE Award expedition 2017
Gold DofE Award expedition 2017
Find the 2016 Duke of Edinburgh's expedition videos at:
Bronze DofEd Award expedition 2016
Silver DofE Award expedition 2016