We are incredibly proud that Sports & Leisure Coordinator, Steve Evans, has been named as one of the nation's most inspirational teachers at a prestigious awards ceremony.
Selected from thousands of nominations, he has won a Gold Award in the Pearson National Teaching Awards for Excellence in Special Needs Education.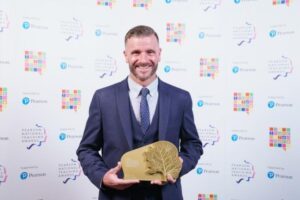 At the ceremony, Stephen was honoured alongside their fellow Gold Winners across 15 categories as the best of the UK's educators.
As Sports & Leisure coordinator of students with a wide variety of complex special educational needs and disabilities, Steve has a determination to convince every student that sport if for them, if they find the right sport. Steve's impact on students can be 'life-changing' as he works tirelessly to ensure that every young person is included in the huge range of activities he provides and is able to benefit from regular exercise.
Inspirational journeys

His passion and drive has been instrumental in bringing the Duke of Edinburgh's Awards to College, giving students the opportunity, motivation and self-belief to get involved with these challenging awards, encouraging them to strive and attain goals beyond their expectations.
The Pearson National Teaching Award winners have been honoured for their incredible work supporting learners across the country. Each award winner has repeatedly gone above and beyond their role to change the lives of their students and help them move towards a brighter future. Stephen said:
"Receiving this award is so special. To be recognised in this way is a proud moment for me. We are always looking to create better opportunities for our students, and we believe a healthy and happy young person will go on to achieve great things in life. It's an inspirational journey to be part of.
"My colleagues and I all want to make a difference to our young people. This award is a real team effort. It's such a powerful thing to have a positive impact on a student, and to do this work every day is more of a passion than a profession. I'm very honoured to receive this award."
What our students say
Former Derwen College student William Chapple, and current student Libby Grigg are just two of many examples of students who have been motivated by Steve.
William shared his experiences with the judges. He said:
"I started running at home in the lockdown. When I came back to college, Steve helped find some routes around college and the local village that I could run. To start with, he ran them with me before work in the mornings, then he helped me with travel training so I could run independently.
"In December, I ran a half marathon with Steve and other staff. I felt really excited and very proud. I am so grateful that Steve helped me. I wouldn't have done the half marathon without him.
"Running has helped me to stay active, fit and healthy. When I did running at home in the holidays, I emailed Steve and he shared my photos on Instagram. It lets other people know what I have been up to in the holidays and makes me feel motivated. Steve is a legend! He keeps me going. He is funny, kind and helpful."
Shropshire student Libby said:
"Steve has helped me do the gym which helps my epilepsy and it can calm my seizures down. Steve also runs our Duke of Edinburgh award – I'm on Gold! I was not well last year, and didn't finish my expedition. I was disappointed. But Steve said to me 'you can finish it this term'. Which means a lot to me.
Steve helps us get our bags packed for our expeditions, and even helps me do my shoes up when were out!! He is a very helpful person. I have learnt how to be independent, and skills from my Duke of Edinburgh's Gold award helps my confidence and to communicate with other people."
Watch the video from the awards evening to find out more about what makes Steve the legend that he is! 
---