When you donate to Derwen College you support our students on their journey to a more independent life.
Derwen College has provided specialist education and care for people with learning difficulties and physical disabilities for over 90 years.
Why donate?
Fundraising enables us to provide students with opportunities to enhance their learning and independence skills, and reach their full potential:
Transport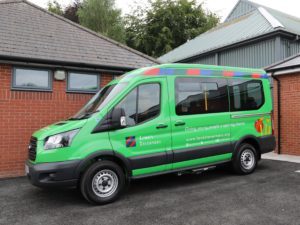 Derwen College enjoys fantastic partnerships with local businesses who provide valuable work placements for our students. Vehicles are vital in getting students to their work placements. Your support means we can fill-up, service and repair our vehicles when needed. Getting our students to work is a priority.
Specialist tools and equipment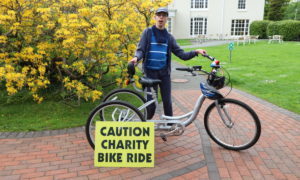 Many of our students have multiple disabilities that make everyday tasks difficult. Your donation means we can purchase specialist tools and equipment to enhance students' independence skills.
Providing experiences for students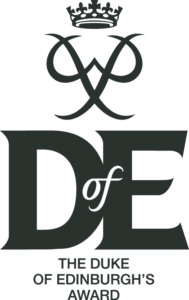 Derwen College can provide students with experiences and opportunities that build confidence and broaden horizons. Students embark on Duke of Edinburgh's Awards; take part in competitions; explore new places and discover new hobbies. Students have the opportunity to take part in exciting life experiences thanks to your support.
Student accommodation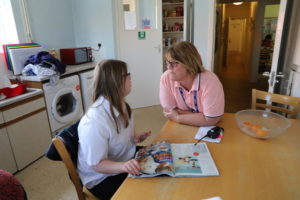 Student accommodation is an important part of college life – many students who study at Derwen College live here too. Your donation allows us to upgrade and adapt accommodation to suit the specific needs of our students. By providing home comfort accommodation students can maximise their opportunity to learn independence and life skills.
A Bright Future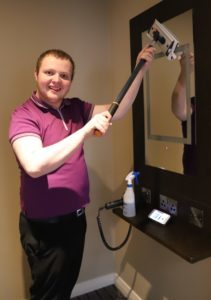 Derwen College is unique. It provides work-place training for students in our busy Garden Centre, Garden Café, The Orangery Restaurant and Karten Print Shop. We fundraise to ensure our business outlets are appealing to customers, industry standard, and serve as appropriate learning facilities for students.
Donate to our 2019 Fundraising activities
Paddle for Derwen
Staff and apprentices from SBC Training in Shrewsbury recently celebrated raising £1,600.00 for Derwen College. They held a successful 'Paddle for Derwen' charity day on the Shropshire Union Canal at Queens Head. They tackled a series of endurance challenges, tested themselves against time trials and even had a canoe tug-of-war.
Organiser Colin Thaw said the event was a great success: "This is the first time we have organised anything like this and we are so pleased with the outcome. It was a tough event for all those taking part but they did it with a smile. We are really pleased to have raised this great amount for Derwen College, an organisation close to our hearts," he said.
Staff from Aico and members of the Shropshire Chamber of Commerce also joined the SBC Training team on the canal.
Derwen College Fundraiser Anna Evans said she was delighted with the donation.
"I would like to thank everyone involved in the Paddle for Derwen. The funds donated to Derwen College will be used to benefit our students in so many ways.
"We aim to make all students who come to Derwen College as independent as possible, and teach them work and life skills that will really make a difference. Donations help us to achieve the best for our students."
Pictured l-r: Chris Gough, CGR Business Solutions Ltd; Heather Noble, Salt Solutions; Kelly Mansell, ABC HR Consultancy Ltd: Debbie Hughes-Beddoes, Darwin Wealth Management; Jo White, Aico and Colin Thaw, SBC Training.
Donate to Mack's Challenge
In July staff and students successfully completed a cycle challenge around Lake Vyrnwy. The challenge, led by college student Mackenzie Beeson saw students with special educational needs and disabilities (SEND) take on the full distance of 14 miles.
Mack and his friend Joe Simpson cycled the lake in adapted bikes and their fellow cyclists used traditional mountain bikes. Derwen's Sports Co-ordinator Steve Evans cycled the distance on an adapted bike to highlight how tough the challenge was for students with disabilities.
Fundraiser for Derwen College, Anna Evans said: "Thanks to the fantastic team at Pedal Power, we managed to get the bikes we needed, plus the helmets and everyone was able to take part. One of students needed an adapted bike, and we got that from Pedal Power too, so we really do owe them a huge thank you!"
The college also received wonderful support from Bethania Adventure in Lake Vyrnwy, who lent a boat for the event. Two members of staff used the boat to follow the cyclists with their drone video camera, capturing the cyclists on the entire route. Members of the Masons also joined the challenge.
Mack and friends have raised just under £1500, but are hoping for more donations now they have completed the challenge.
For more information about Mack's Challenge and to pledge your support please go to:
www.virginmoneygiving.com/fund/mackschallenge
Sponsored Walk and Fun Run
Our biggest fundraiser of the year – Derwen College Sponsored Walk and Fun Run – took place on 31st March 2019. It was another fabulous event with a huge amount of support from students, families and the community. Thank you to everyone involved. Sponsorship money is still coming in and we'll update you when we have a final figure. To read all about how the day went, please click here.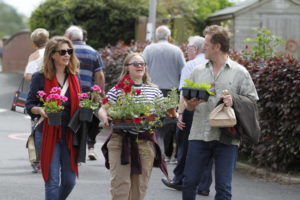 Annual Summer Fete
On Thursday 30th May we had another large event taking place – the annual Summer Fete! It was a great success, with fabulous support from the community, staff, students and their families. Read more about it here.
Upcoming fundraising activities
Lake Vyrnwy Half Marathon take place on Sunday 8th September. We have nine members of staff and volunteers running this event for Team Derwen. One additional space is available to run the course for Derwen – would you like to sign up? Contact Anna Evans on 01691 661234 ext 395.
During 2019 you can support Derwen College in these areas – here's how:
1 – Donate directly to Derwen through our Virgin Money Giving account.
2 – Get involved with some fundraising! We are currently looking for anyone who is interested in volunteering at community events to please get in touch.
3 – Come to one of our events. We have many events taking place throughout the year.
4 – Let your friends and family know about Derwen College. We are on Facebook and Twitter and always appreciate a share or retweet!
Share your fundraising fun at #derwendays.
Thank you to everyone who supported fundraising in 2018. Your support enabled us to begin building a new hydro-therapy pool.