Covid-19 Impact on Fundraising Events at Derwen College:
Over £50,000 loss in donations as a result of cancelled fundraising events
Derwen College Charity supports the college in providing the extra experiences and opportunities that our students need to truly progress and thrive. Thanks to the donations and fundraising events in aid of Derwen College over the past 90 years, the college has been able to grow and adapt according to our students' needs, and become a leader among SEND colleges.
The coronavirus epidemic has had a serious impact on fundraising at Derwen College; many of our events planed for 2020, including the Annual Sponsored Walk and Summer Fete have had to be cancelled. As a result of these event cancellations alone, we estimate the college has lost out on a total of £50,000 in donations.
Do your own Derwen 10K Walk! Inspired by Carter Gough and his family, and Olive? Then do your own 10K walk of run for Derwen. You can help us to raise funds by walking or running 10k in honour of the Annual Derwen College Sponsored Walk. We will post out a Derwen College 10K medal (made by students) to all those who complete 10k and raise funds.
All donations raised via the Derwen 10K walk, will be used to boost the Agnes Hunt Village Project appeal
We are working hard to re-work our other fundraising events and to create new ones. If you would like to support us, we would love to hear from you. Please contact our fundraiser Anna Evans at [email protected] if you need any ideas, support, or to let us know what you're up to.
Thank you all our past supporters, fundraisers and donors. Your contributions have helped Derwen College support thousands of students gain the skills they need to change their lives and transform their futures.

When you donate to Derwen College you support students on their journey to a more independent life.
For over 90 years Derwen College has provided specialist education and care for people with learning difficulties and physical disabilities.
Why support Derwen?
Fundraising enables us to provide opportunities to enhance students' learning and independence skills, and reach their full potential.
Transport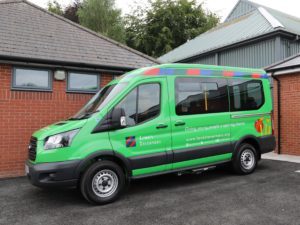 Derwen College enjoys fantastic partnerships with local businesses who provide valuable work placements for our students. As a result vehicles are vital in getting students to their work placements. Your support means we can fill-up, service and repair our vehicles when needed. Getting our students to work is a priority.
Specialist tools and equipment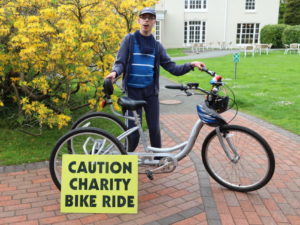 Many of our students have multiple disabilities that make everyday tasks difficult. Your donation enables us to purchase specialist tools and equipment to enhance students' independence skills. For example tricycles are used by students with balance or coordination difficulties.
Providing experiences for students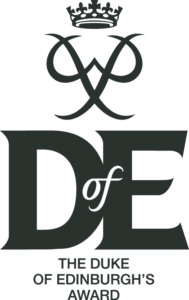 Derwen College can provide students with experiences and opportunities that build confidence and broaden horizons. For instance, students embark on Duke of Edinburgh's Awards; take part in competitions; explore new places and discover new hobbies. When you donate to Derwen you support students have the opportunity to take part in exciting life experiences.
Student accommodation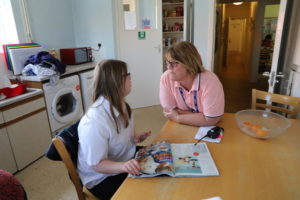 Student accommodation is an important part of college life – many students who study at Derwen College live here too.  Your donation allows us to upgrade and adapt accommodation to suit the specific needs of our students.  Subsequently, by providing home comfort accommodation, students are more confident to maximise their opportunity to learn life skills and become independent.
A Bright Future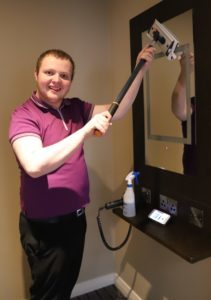 Derwen College is unique.  We provide work-place training for students. Furthermore, our busy Garden Centre, Garden Café, Orangery Restaurant, Hotel 751 and Karten Print Shop all provide industry standard facilities. We therefore fundraise to ensure our business outlets are appealing to customers and serve as appropriate learning facilities for students.
In November we launched The Agnes Hunt Village project.  The Agnes Hunt Village was built in the 1950s – an ambitious project at the time – providing homes for people with disabilities.  During the following 60 years, those homes have been in constant use. Consequently, the project to modernise the village will cost in excess of £1million.  You can find more information about the project at www.agneshuntappeal.co.uk
During 2020 you can support Derwen College in these areas – here's how:
1 – Donate directly to Derwen through our Virgin Money Giving account.
2 – Get involved with some fundraising! We are currently looking for anyone who is interested in volunteering at community events to please get in touch.
3 – Come to one of our events.  This year's Sponsored Walk and Summer Fete are cancelled, but we are looking forward to even bigger and better events next year.
4 – Let your friends and family know about Derwen College.  We are on Facebook and Twitter and always appreciate a share or retweet!
Share your fundraising fun at #derwendays.
 Thank you for supporting Derwen College.
You enabled us to build a new hydro-therapy pool,
which opened in September 2019.