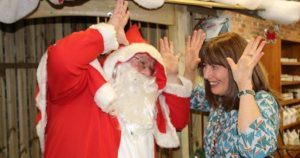 Santa's little helpers can glean a little extra help relating to children with communication difficulties this Christmas.
Derwen College, near Oswestry, is running a signing workshop on Thursday, November 1st, ensuring that stand-in Santas and elves have no problems understanding what children want in their stockings this year.
The 2.5-hour fun Makaton workshop, from 2pm-4.30pm, teaches the essential signs and symbols to make the grotto experience magical for youngsters of all abilities. The fun workshop will be run by trained Makaton tutor Julie Hawkins who will teach a handful of Christmassy signs, symbols and songs to help festive helpers communicate with youngsters with learning difficulties and disabilities. The course costs just £10.
Makaton is a language programme using signs and symbols to help people to communicate. It is designed to support spoken language and the signs and symbols are used with speech.
Julie Hawkins, Derwen College's Head of Speech and Language says: "This will be the second year that Derwen College has run a Christmas Makaton workshop. We thoroughly enjoyed last year's sessions and thought there was definitely a need to roll them out to more people this year.
"We believe that by learning a few simple signs, every Father and Mother Christmas and would-be elf could communicate effectively with all children ensuring that the grotto experience is truly special for children with learning difficulties and disabilities.
"The workshops are great fun and offer a bit of extra help for grotto staff, making sure that Father Christmas is never lost for words."
Derwen College, in Gobowen, is a specialist college for young adults with learning difficulties and disabilities. The college offers students the opportunity to learn new skills in real work environments and to learn life skills which will enable them to live as independently as possible. The college has received three consecutive 'outstanding' Ofsted gradings.
For further information about the Signing for Santa workshop telephone 01691 661234 ext 230 or email bookings@derwen.ac.uk. For information regarding Derwen College visit www.derwen.ac.uk