Derwen College has received Silver Makaton status.
We are the first specialist college to be given this recognition, which means we are officially part of the Makaton Friendly community.
Silver status is currently the Makaton Charity's highest possible accreditation.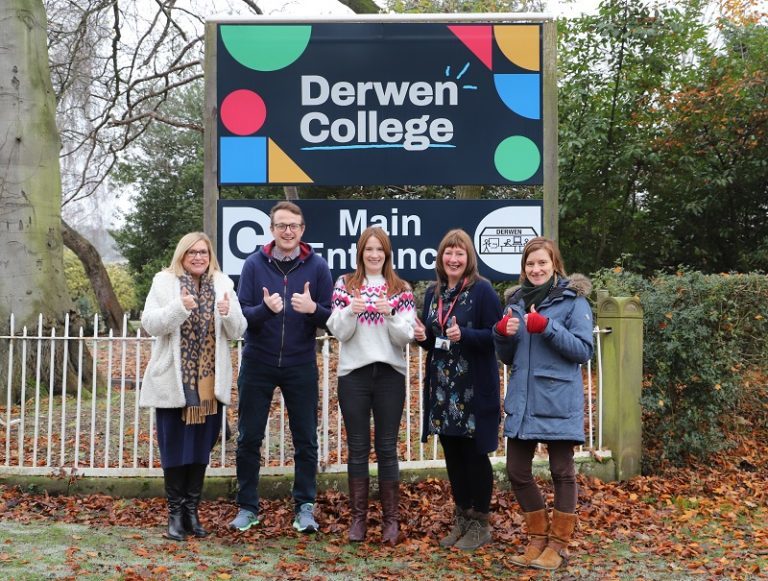 Makaton is a language programme that combines signs, symbols and speech to provide multiple ways to enable people to communicate. We are incredibly proud to be officially Makaton Friendly, offering students with special education needs and disabilities (SEND), and communication difficulties, a helping hand to increase their understanding and also to share their voice and be heard.
The Makaton Language Programme was developed more than 40 years by Margaret Walker MBE. It has grown to be used in schools, colleges and establishments across the UK. Makaton has been adapted to be used in more than 40 countries across the world.
Today, more than 100,000 children and adults use Makaton, either as their main method of communication or as a way to support speech. In recent years, Makaton has become more widely used and seen on television due to the likes of CBeebies' Mr Tumble on children's favourite Something Special. Celebrities on BBC's Strictly Come Dancing are also often seen thanking the viewing public through Makaton.
We are proud to use Makaton signs and symbols throughout College, and to have a dedicated team of six tutors who train and support all staff across College.
Cross-college initiative
Qualifying for Silver status has been a cross-college initiative with 75% of student-facing staff needing to reach at least Level 2. Three-quarters of staff, across all departments (we would argue that everyone across College interacts with students in some way), now have a good basic grounding in signs and symbols, including food and home items, words relevant to College life, and letters of the alphabet.
More than 20% of staff have also reached the advanced Level 4, and 10% have attended workshops in Makaton for Safeguarding, an area where clear communication is vitally important.
The College's Head of Speech and Language Julie Hawkins, is a senior tutor for Makaton. She is also the symbols advisor for The Makaton Charity – meaning the charity ask her advice for correct symbols, and on the creation of new signs.
One of Julie's claims to fame is that she's been up Mount Snowdon with Mr Tumble, all in the name of ensuring that the Makaton brand is used correctly at all times!
By using Makaton, children and adults can take a more active part in life, because communication and language are the key to everything we do and learn.
Communication strategies
For student Isaac, for example, alternative communication strategies are vital. He has a severe communication disorder, as well as being autistic, and uses a combination of Makaton and British Sign Language, as well as an IPad communication aid. Derwen College has worked with Isaac and his family to revise his Makaton vocabulary to ensure consistent communication with staff and peers.
Isaac has developed his ability to use Makaton signs and symbols to assist him with all aspects of his communication in his Hospitality and Food pathway, in work placements, and the wider college environment. He has become very confident when communicating with staff and peers who are aware of Makaton.
Isaac uses Makaton signing to indicate whether he has understood something. This has led to increased confidence in his ability to make himself heard and given him the confidence to ask for help when needed.
Wayfinding signage and information posters around the College, and even student timetables, include Makaton symbols, and staff are encouraged to use signs to support communication with students.
The College has worked with app developers Starfish Labs to produce ground-breaking 'Support Work' apps, which can be used on a tablet or a mobile phone. These use Makaton signs (as well as text, speech and video) to support students to access work. The apps, which have been developed with backing from The Makaton Charity, include a CV Builder App and a Working in a Premier Inn app.
The college also raises awareness of Makaton with its fabulous sign and dance group DOT (Derwen on Tour) who have performed at events including the National Eisteddfod, Christmas light switch-ons, and a Premier Inn national conference – bringing Makaton to as wide and diverse an audience as possible.
Outside of College, Julie has hosted and led Makaton sessions in the community which have included teaching horse-related signs at a Riding Centre, local schools, and festive signing for potential Santa's Grotto employees.
Head of Speech and Language Therapy and Senior Makaton Tutor Julie Hawkins said:
"To achieve Makaton Silver Status means a great deal to us at Derwen College. We believe it is vital that students are understood, and that they should be given every opportunity to communicate their feelings and wishes.
"Makaton signs and symbols support communication and increase understanding between students, and between students and staff, helping to extinguish some of the frustrations that students feel at not being understood. Makaton also allows staff to better explain what is expected of students in their work area, residence or free time, and to recognise and communicate quickly when there is an issue.
"The delight and relief that people with communication difficulties show when they know they've been understood and listened to is clear. Makaton supports children and adults to be heard and to have a voice. The staff at Derwen College are proud to be at the forefront of enabling all our students to communicate. Communication is the key to success for so many of our students, and we're proud to use Makaton to support them to achieve their ambitions."
---