A new sensory room in our Nurture Centre is up and running, and it looks (and feels and sounds) amazing!
The Nurture Centre sensory room offers a dedicated space for therapeutic development and sensory play, which students can control and personalise; and it's proving to be a big hit.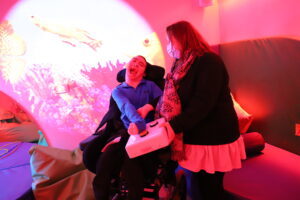 The room features a vibrating plinth, light tube, sensory wall panels, an image projector, and an interactive music system. All are designed to give students maximum control of their surroundings.
Our Nurture students – who have profound and multiple learning disabilities (PMLD) – are benefitting hugely from this new state-of-the-art provision. The room was designed by Premier Solutions, the team behind our hydrotherapy pool which opened in 2019.
The equipment all features easy-to-operate controls so that students can manipulate their own environment. The speakers are paired up with Spotify and Alexa, so that students can choose their own music, and select it using eye gaze technology.
Personalised experience for Jake
Jake (pictured above) is a big Liverpool fan, so likes to listen to Gerry and the Pacemakers classic 'You'll Never Walk Alone.'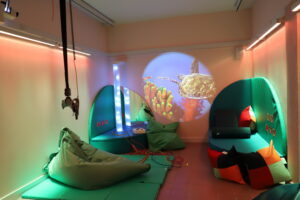 PMLD pathway lead Beverley Simmonds, says that there are plans to personalise the projecting images as well. This would mean that Jake could enjoy images of his favourite team too. She says:
"We are really happy with the sensory room, and particularly like the fact that we can make it bespoke for our students who use it. It's also important that students can use the equipment to control their own environment. Using the hoist and walking jacket, a student who is usually in a wheelchair, can walk safely around the room. They can access everything and select their own activities.

"Using the Alexa app, connected to speakers, students who are non-verbal can use eye gaze technology to select their own music."
The Sensory Room is a phased project, with room for further features to be added in the future.
Our Nurture programme was launched last year. We currently have three students enrolled, with space to accommodate up to eight students in the future.
---