A brand new state-of-the-art hydrotherapy pool officially opened in September 2019.
The pool will support students who require hydrotherapy as part of their care whilst at Derwen College.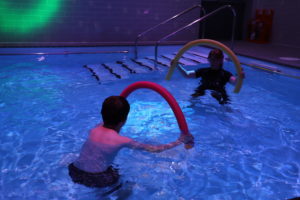 The benefits of hydrotherapy include strengthening muscles and improving muscle tone, increasing circulation and range of movement in joints. Hydroptherapy provides a freedom of movement which is not achieved in dry land therapy.
The grand opening saw local dignitaries attend along with staff and students. Guests included the High Sheriff of Shropshire and Oswestry Mayor, as well as generous sponsors whose donations have made the project possible. Architects and builders who brought the vision to life also attended.
The new Bradbury Hydrotherapy Pool will be open to students as part of their physiotherapy, health and wellbeing. The state-of-the-art warm water pool incorporates accessible changing rooms, physiotherapy area, sensory lighting and music. Students with limited mobility will use a dedicated hoist and shower trolley to access the pool and changing facilities.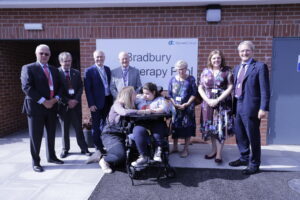 Derwen College Principal Meryl Green said:
"Derwen College is pleased to officially open the Bradbury Hydrotherapy Pool. We have been able to design and build this fantastic facility thanks to generous donations from the community.

The hydrotherapy pool will prove an invaluable resource for students providing them with physiotherapy as well as a sensory experience".
The hydrotherapy pool project has benefited from generous donations from community groups. These include The Bradbury Foundation; St James's Place Foundation; and Garfield Weston Foundation who, between them, donated £330,000.
---