Could your motor business support a student towards future employment?
A car fanatic student who attends our Telford campus is asking businesses in the area to help him follow his dream of working in the motor industry.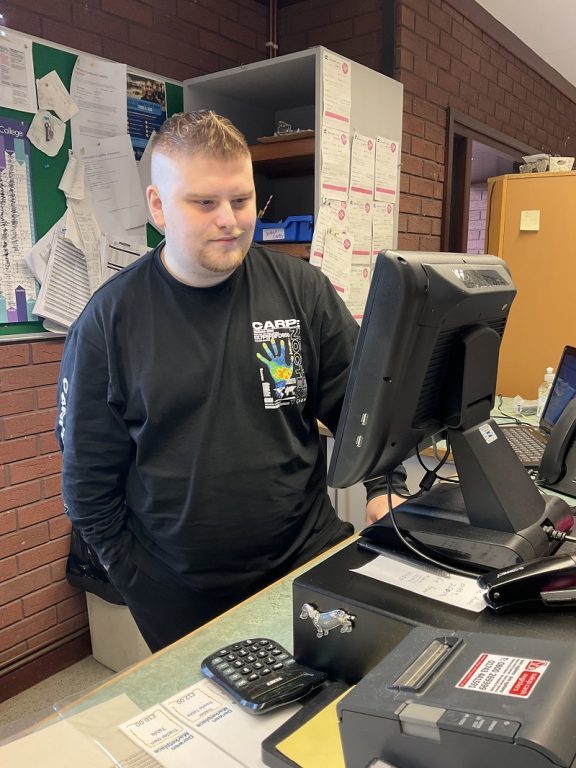 Aaron, a 19-year-old student from Ketley, is an automotive enthusiast who is seeking a work placement at a local vehicle business or dealership.
He is asking garages, dealerships, car sales and car parts businesses, to give him the chance of a lifetime with work experience opportunities in customer service, valeting, car washing or admin. He would be supported by a job coach, and is willing and able to turn his hand to many different jobs.
Aaron, who has a diagnosis of Autistic Spectrum Condition, is in his third year at Derwen College Telford, in Stafford Park. He hopes to go on to further training and employment after College. His ambition is to combine his skills in Business and basic car maintenance to work in the motor industry.
Currently following a Business Support, Sales and Marketing pathway, Aaron has learnt skills which would be an asset to any business. He currently has work placements at Derwen College Garden Centre & Gift Shop, at the college's Gobowen Marketplace site. He also has a weekly placement selling Derwen produce and gifts at Much Wenlock's weekly Friday market. He interacts well with customers and is self motivated.
"I really like serving customers. I didn't think it would be something I enjoyed but my confidence has grown.
"In the Market, I also have to make sure we've got enough stock, stock-take at the end of the day, and count up the money and calculate profits at the end of the day."
His love of cars means he is also very capable under a car bonnet, able to carry out basic maintenance checks on oil, water, tyre pressure and brakes.
He continues: "I love cars, anything with wheels! I know a lot about how they work, and like helping to fix cars. I'm happy to wash and valet them and to help with many jobs. I'm really hard working and am independent, and getting more independent all the time. My dream job would be to open my own car shop one day!"
Derwen College work experience team support students and interns to find regular weekly placements, and are always pleased to hear from businesses in Horticulture, Hospitality and Food, Retail and Enterprise, and Performing Arts or related sectors.
Just a few hours a week in a work environment provides vital experience for students, which helps them towards employment and a more independent future.
Work experience co-ordinator Abi Baker said:
"Our external work placement programme offers life changing opportunities for students to undertake meaningful, real work experience which is relevant to their learning and future career hopes.
"Telford has many thriving businesses in the automotive industry. We hope that one of them might offer Aaron the chance to prove himself. He is hard working and conscientious, with a genuine passion for cars.
"Businesses that we work with also find that offering work experience is a rewarding thing to do. Offering work placements to a person with a learning difficulty promotes diversity and boosts a company's reputation for being community-minded and inclusive."
To find out more about how you could help support Aaron's future prospects, please contact Abi Baker on abi.baker@derwen.ac.uk.
---