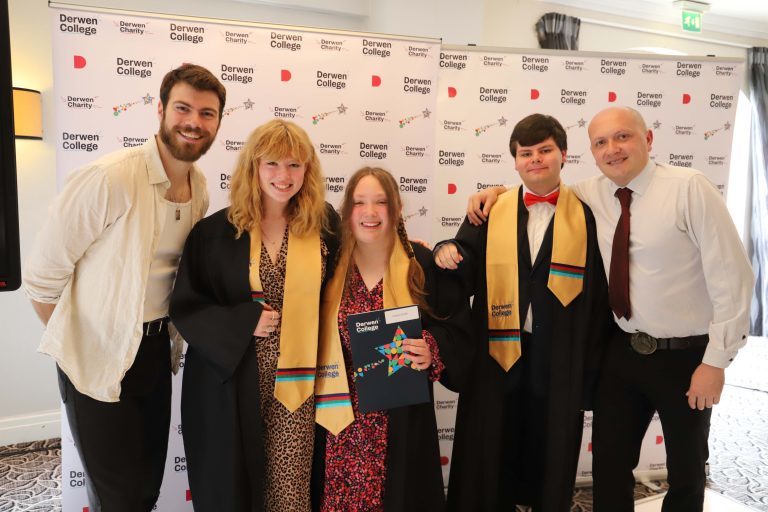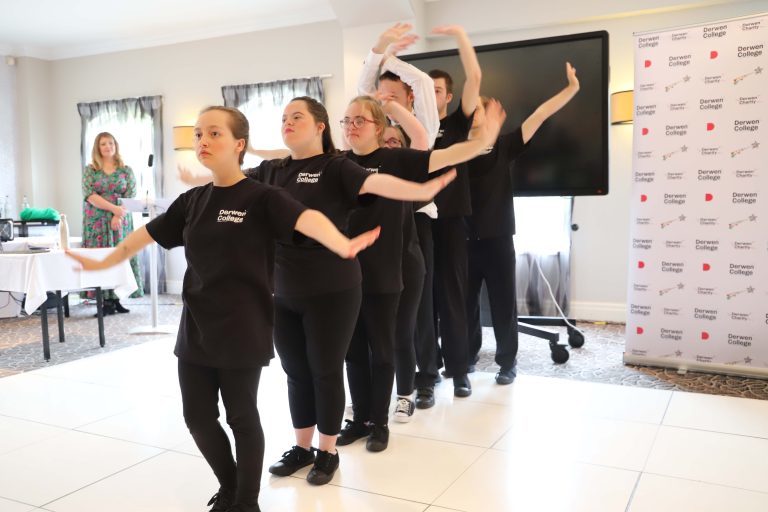 Our Summer 2023 graduates celebrated achievements in learning, work skills, independence and wellbeing at an emotional graduation ceremony at Lion Quays Hotel and Resort, near Oswestry, on Saturday, 7 October.
Forty former students and their families from across England and Wales, as well as staff, supporters and local dignitaries attended the momentous occasion to celebrate the inspirational achievements of our students.
It was a proud occasion, as students, dressed in their graduation gowns with keepsake Derwen College sashes, marked their time at College with presentations of certificates, with cups and trophies for students who particularly stood out for their learning, commitment or resilience. It was also a chance to hear how well graduates were doing since leaving college, with many already in employment or further training.
Drinks and a buffet lunch were served by our Hospitality students. Entertainment was provided by our street dance team, Derwen Dance Crew (DDC) and sign, song and dance group Derwen on Tour (DOT).
The ceremony was opened by Curriculum Manager Jennifer Fawcett-Jones. Chair of Governors K Kimber made an introductory speech. She praised graduates for the phenomenal progress they made whilst at College, reminding them of much more self-sufficient they have become, and how proud we are of their successes.
Among guests of honour were Mayor of Oswestry Councillor Olly Rose, Gobowen Councillor Craig Emery and Derwen College industry champions – experts in their field who share their knowledge and experience with College.
They included:- Coronation Street and Ackley Bridge actor Sam Retford, Oswestry poet and author Jan Hedger, Rocking Horse Media founder Gareth Thomas, Severn Hospice's Refresh Café manager Jane Steventon and Sarah Crowther from Premier Inn.
Derwen graduation trophies
Trophies were also handed by special guests. Former student William Chapple presented the William Chapple Cup for Kindness and Consideration; Cameron Kelly presented the Caitlin Kelly Spirit Award, and Paul Dew presented the Neil Dew Cup for Outstanding Student in Performing Arts Award.
Graduation is a chance for former students to come together to celebrate their time at college and talk about their plans for the future. Some graduates have already gone on to jobs, further training or are living independently since leaving College. We look forward to sharing their individual success stories soon.
The event was rounded off with a moving performance of Nathan Grisdale's 'Make the World Listen' by sign, song and dance group DOT, which features the line: "Make the World Listen. You are Amazing!"
As our Master of Ceremonies, Jennifer Fawcett-Jones, said; "Now, graduates! Go make that world listen!"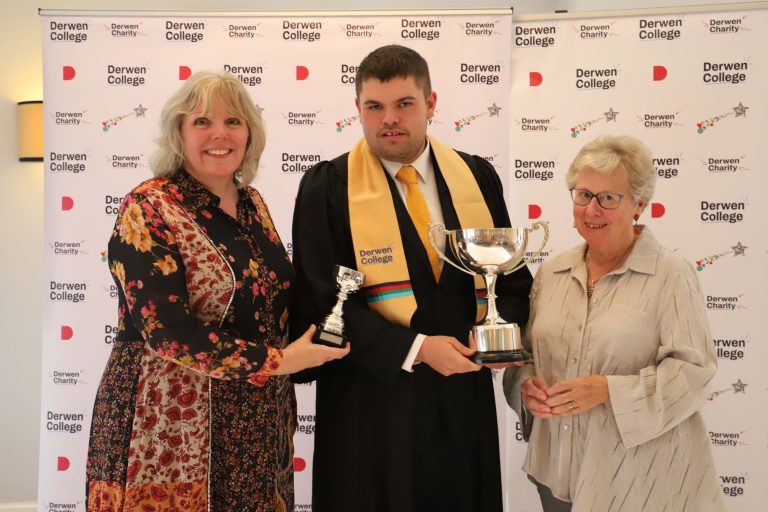 Special achievement winners:
The Hospitality & food Emma Briscoe cup was won by Finnley Allen.
The Horticulture Frank Matthews Cup was won by Sam Baker.
The Retail and Enterprise Cup was won by Mark Williams.
The Performing Arts cup for Drama was won by Ciara McKenna.
The Achievement in Music Cup was won by Anna Redding.
The Neil Jew Cup for Outstanding Student in Performing Arts went to Joshua Wilde.
The Richard Dodd Memorial Trophy for Learning for Life went to Andy Curtis.
The Outstanding Satellite Students (Walford) award went to Charlotte Adison.
Outstanding Satellite Student (Teflord) went to Josh Carter.
The William Chapple Cup for Kindness and Consideration for Others went to Millie Agnew.
The Caitlin Kelly Spirit Award, recognising resilience, went to Kian Davies.
Overall Outstanding Student of 2023 was Mark Williams.
---