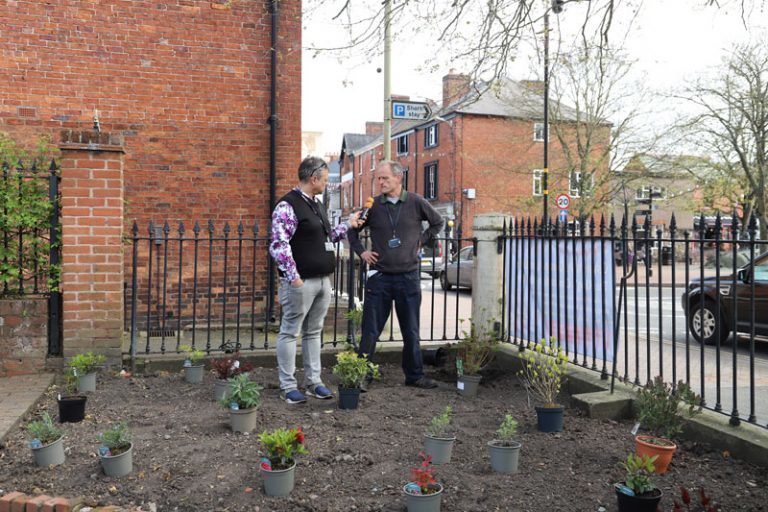 The Derwen planting team have been busy creating bee and butterfly-friendly flower displays in nearby Oswestry.
Our Nursery Production Manager Paul Moss, client Anton Berry and the Horticulture team have been at Cae Glas Park in Oswestry this week, starting planting for a gorgeous summer display. Paul has been asked by the town council and Oswestry in Bloom committee to design and plant displays with perennial pollinators such as bees and butterflies in mind.
He has selected and planted perennials that are pollinator friendly. These plants will complement the floral bedding plants in borders and baskets in the centre of the park. Radio Shropshire's Paul Shuttleworth and Oswestry in Bloom chairman Natalie Bainbridge visited to chat to Paul this week. Paul was on Radio Shropshire this week talking about how he chose plants, including many of his favourites. Listen again at https://derwen.me/OswestryinBloom (1 hour 9 minutes into the programme).
Paul's planting has included perennials: Rose Everglow Ruby, Citus Thrive shrubs, Abelia Kaleidoscope, Escallonia pink, Buddleia butterfly bush and Lonicera honeysuckle. He says a least two thirds of the chosen plants are pollinator friendly. They are also all available to buy in the College's Garden Centre and Gift Shop.
He says: "We've been planting all week, and have really enjoyed sourcing and planting perennials that will come back season after season, rather than just the short-lived bedding plants. It's a greener way of planting and is more friendly for bees and butterflies. A lot of the plants also have gorgeous scents. We've had some really positive comments from visitors to the park.
"The main beds and baskets will feature bedding plants, which add an instant display of colour. I think we've got the best of both worlds."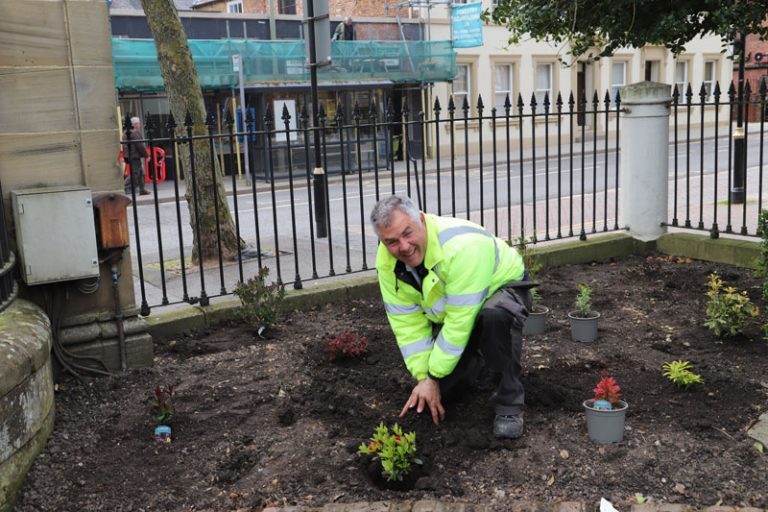 ---