As we look ahead to September, and the excitement and nerves of new starters, we asked Derwen graduate Mia, and her family about, that first day, and Mia's success story since then…
Mia spent three years as a residential student at Derwen College, on the Retail and Enterprise pathway.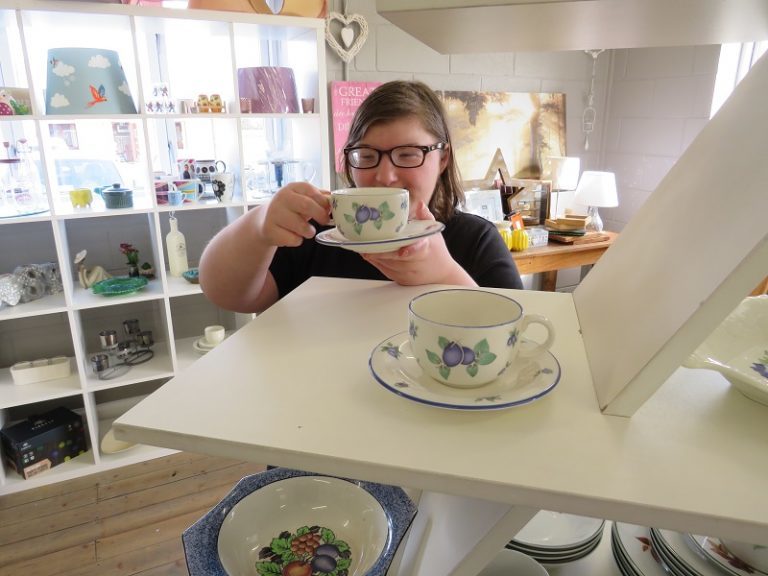 Despite a nervous start, Mia soon settled in, and loved life at Derwen, learning skills that have helped her progress to work in a charity shop. Mia, who is 23, from Warwickshire, has put to use all the skills and independence she gained at Derwen in her new house which she shares with friends.
Mia's success story started when her family first heard about Derwen College at an open evening at the Stratford-upon-Avon school, Welcombe Hills School. She was 15, and looking forward to starting sixth form. Her family was keen to look ahead to life after school, and agreed that a residential place at Derwen would best support her future.
Mia, who has severe learning difficulties and speech and language needs, loved Derwen from her first visit, as did her parents. They were delighted when they received confirmation from Warwickshire County Council.
Mia's mum Stella says: "It was never a given that Warwickshire would fund Mia at Derwen – we had to give supporting evidence that there was nothing suitable within the county – there is nothing at all comparable to Derwen near where we live.
We also thought that living away from home was just a wonderful experience which would allow Mia to become much more independent and grown up – a proper university-style experience like the one her brother had enjoyed."
First day was nerve-wracking!
Nevertheless, the first day away from home was nerve-wracking. Mia was very excited about starting college and had attended transition days, so she knew what to expect. But that first day still brought a whole load of nerves and anxieties! "She did try to get out of it!" remembers Mum. "However, the induction was great, and we left Mia after setting her room up to go home, and Mia headed off to an organised meeting to get to know other new students.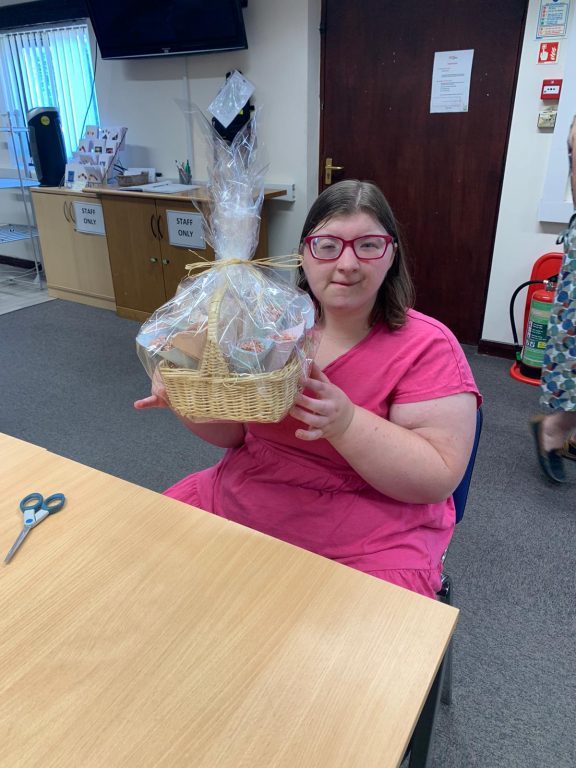 "It was also lovely for Mia that a friend from school was on his last year at Derwen when she was on her first, and she loved meeting up or bumping into him on campus! It took a week or so to settle properly and Mia was upset the first night, but she was used to going to respite so being away from home was not a totally new experience which helped immensely."
Mia loved her time on the Retail and Enterprise course, especially working in the Garden Centre Shop and the Vintage Advantage charity shop. She particularly enjoyed working on the till. Mia also enjoyed the social aspect of College, and grew in confidence and maturity.
"She loved the outings offered: bowling, shopping, theatre, swimming etc, and had a better social life than us!" says Mum.
Mia's domestic skills greatly improved. She learnt to cook, clean, iron and shop. All skills which Mia has put to great use in her new house (run by You and Me Supported Living). She shares a house with three others all similar in age, including a friend who joins her this year from Derwen.
She has her own bedroom and bathroom and takes turns to cook, as well as being responsible for her washing and cleaning.
Mia's success leads to award for 'Retail Student of the Year'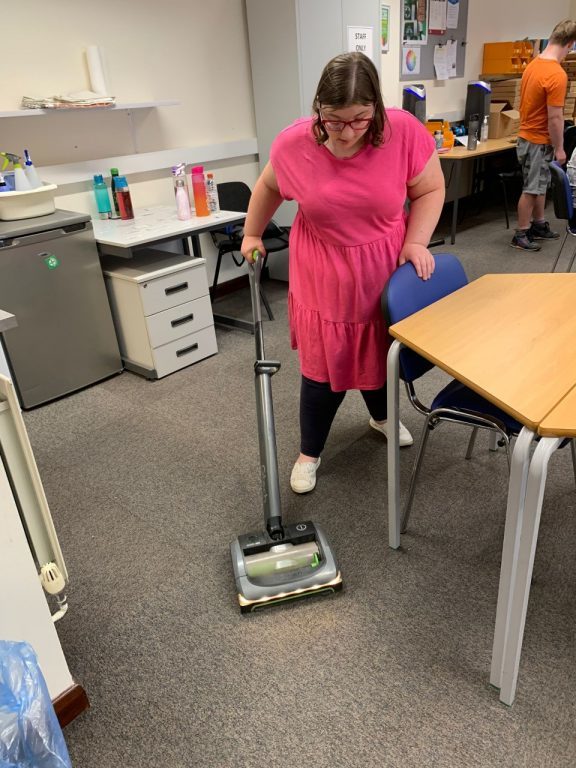 Mum, Stella says: "Mia really came in to her own work wise in her final year at Derwen and was rewarded by being given the Retail Student of the Year award at graduation and prize giving which was an extremely joyous and well organised event and a wonderful catch up for all the students."
Mia attends  'Eco Workshop' which offers work for disabled adults one day a week, she also works in a charity shop one day and goes to a day centre by bus with a companion, two days a week. She is working on further travel training and hopes to be able to travel independently in the future.
Mia is very happy to cook, loves keeping the house tidy and emptying the dishwasher and has just been on a holiday to Butlins with her housemates which they all loved. She has met up with a few friends from Derwen since she left, she sees old school friends at Eco Workshop and has made new friends at You and Me and the day centre.
Mia says: "I still love swimming and going out for meals, and love bowling best of all!"
Mum, says: "Mia definitely recommends Derwen College. It was a wonderful experience for her and for our family. We are very proud of Mia – and it was such a lovely surprise and proud moment when she was given the Retail award.
The staff at Mia's new house all say how lovely and helpful and caring she is too which makes us very proud. Thank you, Derwen College!"
---