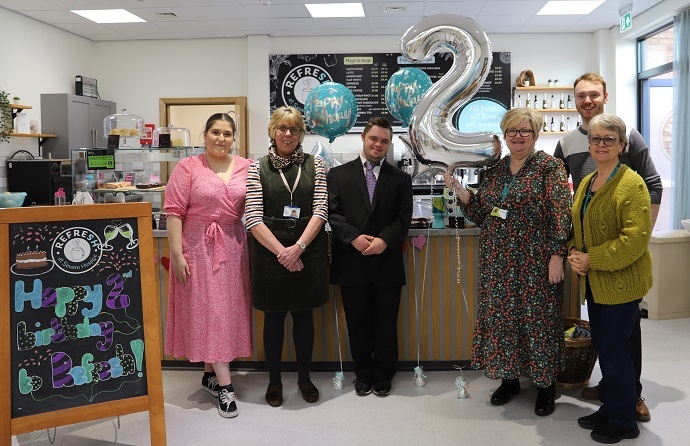 We were very proud that Hospitality student George Weston was part of the staff team celebrating Shrewsbury's Refresh Café's second anniversary today.
George enjoys a weekly work placement at Severn Hospice café, Refresh, near Shrewsbury. He was proud to be one of the team who make the Bicton Heath café such a success.
George, who has Down's Syndrome, is a Hospitality and Food student. As part of his weekly timetable he enjoys a placement at Refresh every Wednesday. He is a valued staff member, working at the cafe, with job coach Gail Beasley. He is gaining skills that will help him to get a job when he leaves college this year.
George washes up, keeps the cafe clean, takes orders, and uses the till. His favourite thing is talking to customers.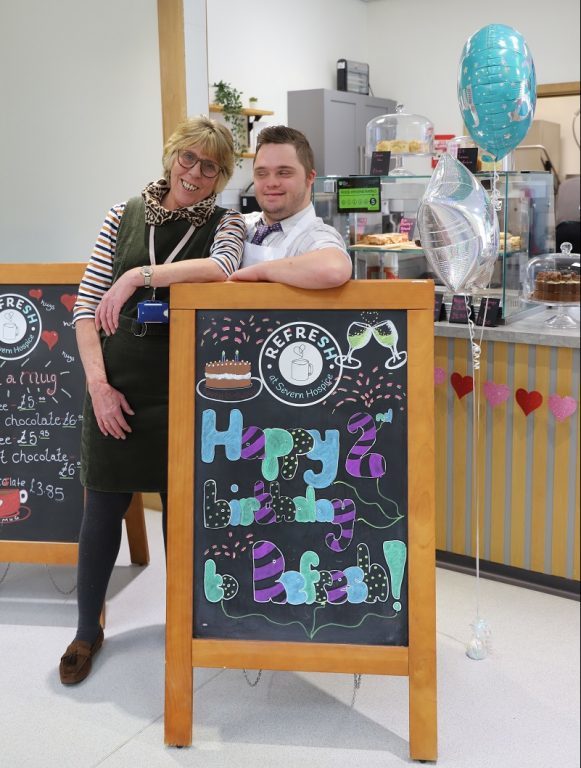 Manager Jane Steventon said: "We had to have George and Gail here for our birthday celebrations today. They are an important part of our fabulous team! We love having George here, and customers love him too. He works hard and is a real asset to the cafe. We will all miss him when he finishes college this year."
'Jane and everyone are incredible!'
George, who arrived at work in his best suit for the occasion, said: "I like working here, washing up, taking orders and talking to customers. Jane and everyone are incredible, amazing! They help me if I need it. I love it here."
George, who is 22 years old, would like to work in a café when he finishes College. He also enjoys working at Derwen College's on-site Hotel 751, Walled Garden Café, Tip Top Takeaway service and the Food Centre, and has a weekly work placement at Premier Inn.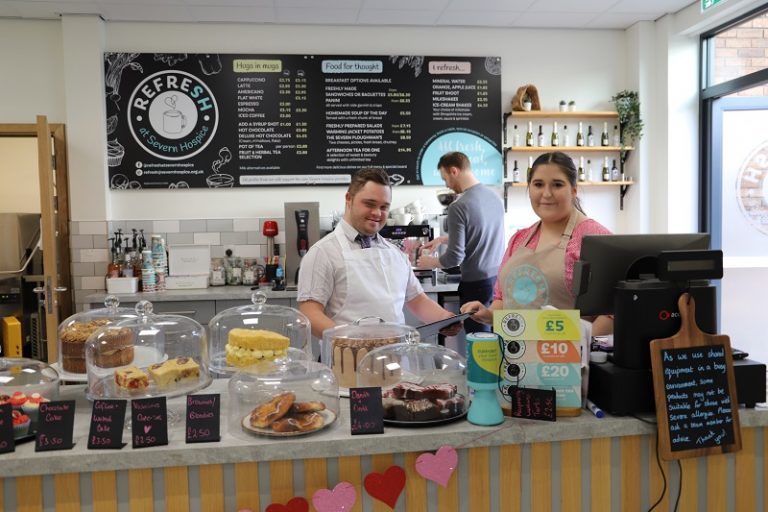 Derwen College Work Experience and Supported Internships Coordinator Abi Baker said:
"We are incredibly grateful to Refresh for offering George this wonderful opportunity and thankful that we were able to develop this partnership.
"Regular work placements are vital learning for our students, offering the next step towards employment after college.
"Thank you to Severn Hospice and to all our brilliant local and national partner businesses who recognise the value of offering placements to young people with special educational needs and disabilities (SEND)."
If you are a business who could offer a weekly work placement related to Hospitality, Retail, Business, Horticulture or Performing Arts to a young person with SEND, please email Abi Baker.
---