Sports and Leisure Coordinator Steve Evans has been honoured by the Duke of Edinburgh's Awards for his dedication to supporting students to achieve these incredible awards.
Steve, who recently spent a busy week on expedition with Gold Duke of Edinburgh's Award students and former students, is one of just 100 people across the world to receive a specially-commissioned commemorative Duke of Edinburgh coin.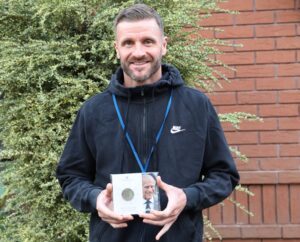 Derwen College Duke Edinburgh's Awards leader Steve Evans was chosen as one of the 50 recipients in the UK to be awarded a £5 Crown coin in recognition of work for the Duke of Edinburgh's Awards.
The coin features an original new portrait that was personally approved by The Duke of Edinburgh in 2008. 100 commemorative coins, accompanied by a letter of thanks from HRH The Earl of Wessex and have been awarded to inspirational volunteers around the world; 50 for volunteers in the UK and 50 for volunteers in other countries and territories.  
'An incredible ambassador'
Ashley Williams, Duke of Edinburgh's Awards Operations Officer for Telford and Wrekin and Shropshire, and Centenary Youth Ambassador Project Manager, said he was proud to put Steve's name forward for the honour. He said:
"Steve is an incredible ambassador for the Award and goes above and beyond on a daily basis, to give every student who wants to take part at Derwen College, the opportunity to do so. His passion and determination to support students through each of the sections of their awards is unrivalled.
"It is clear to see the positive impact that taking part in DofE has on the students at Derwen, as each time I visit the College, I am given the opportunity to speak to the students and their faces light up talking about DofE, the fun they have and the memories they have made. They all love Steve, and value the opportunities he facilitates for them.
"It is a pleasure to work with Steve. He surpassed himself during the lockdown period by running virtual DofE sessions for the students and supporting them to continue with their Awards from home, keeping them motivated and engaged throughout an incredibly challenging time."
'Honoured'
Steve said he was surprised and honoured to receive the coin on behalf of the College and Duke of Edinburgh's Awards. He said:
"Thank you to the Duke of Edinburgh's Awards for this honour. Everything that we do towards Duke of Edinburgh's Awards is only made possible because of a team effort. Thank you to the staff and student team at Derwen, and for all the support we receive from the regional DofE team. It is very much appreciated and ensures many young people at Derwen College get to take part, enjoy and benefit from in the award."
This is not the first time that Steve's passion for his job has been recognised. Earlier this month, he was named as a Gold winner in the Pearson National Teaching Awards in the Excellence in Special Needs Education category.
---