The College was shortlisted in the Careers Programme in a Special School/College category.
Being shortlisted in the prestigious careers awards, recognises Derwen College's efforts in supporting students with special educational needs and disabilities (SEND) towards future employment. The College is delighted to be recognised for its innovative approach to careers development. 
Derwen College is proud of its robust careers programme which includes innovative new Support Work apps. These apps are geared towards providing students with the information and skills they need to become work ready and more independent after college. 
Working with app developers Starfish Labs UK, and part-funded by Marches LEP, the College has developed a CV Builder app. We believe is the first of its kind to be designed with a focus on people with SEND. The app allows users to populate a CV with minimal support, using words, Makaton symbols, videos or photographs. The app then allows students to independently send the CV to a potential employer. They can also attach video and photographic evidence of their employment skills.  
Derwen College Careers teacher Siobhan Williams recently showcased the app to employers who were members of Shropshire Chamber of Commerce. Employers agreed that seeing students showcasing their skills was more useful than a written list of qualifications.
'Very excited' about CV Builder app
Heather Noble of Oswestry-based business and training coaching company Salt Solutions said: 
"I'm very excited about the CV Builder app. Not only because it will allow people with special educational needs to compete in the workplace, but because it will enable employers to receive concise, relevant and appropriate information about a potential employee. Especially from an employee who might not ordinarily be able to convey their strengths.
"As a young person, finding things to put on a CV can be particularly challenging when experience is limited. This tool will help both employee and employer to share information simply. From my point of view, I particularly like the video element which allows employers to see the individual as a whole person not just as a few facts and figures. I don't see any reason why, in time, this app couldn't be rolled out to mainstream job seekers. It could help support an job seeker in putting their best foot forward." 
Winners of the awards will be announced in a virtual award ceremony on 10th March. 
Looking ahead to Skills Live @Derwen 2021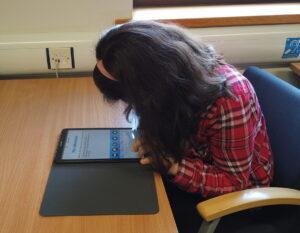 Derwen College Principal Meryl Green said:
"We are thrilled to have been shortlisted in the UK Career Development Awards. This is recognition for the continued work we do to support our students into employment.
"The Support Work apps are just part of our ongoing commitment to being innovative and forward-thinking in providing opportunities for students to achieve their goals."
 The College is pleased to have launched Skills Live @Derwen 2021. It runs from 1st-5th March to coincide with National Careers Week. Students aged 16-25 year olds with SEND from across the UK can compete to showcase work skills they have learnt at College. Schools can also take part in fun have-a-go sessions.  So, if you are a college, school or business who would like to take part or fine out more, go to derwenskillslive.co.uk
---