Students on our Nurture programme have been under canvas and out on the waterways as part of their Bronze Duke of Edinburgh's (DofE) Award.
A small group of students with profound and multiple learning disabilities (PMLD) are the first from our Nurture programme students to embark on this challenge.
The Nurture team worked with the our Duke of Edinburgh's Awards Manager Steve Evans, to create meaningful and challenging experiences for students. These pushed our students out of comfort zones and utilised their skills.
Students in Nurture have disabilities which affect their mobility and ability to communicate. Therefore, elements of the award were adapted to be more accessible.
Students spent time in a tent on the College's dedicated DofE Outdoor Centre. For most, it was their first time in a tent, and a brand new sensory experience – though not necessarily a comfortable one!
The group learnt dog grooming and first aid for the 'volunteer' parts of the award. They created bug hotels and bird boxes as their 'skill'.
For the 'physical' element, students they enjoyed adapted yoga, boccia and table cricket sessions.
Expedition is the highlight
For most students, the DofE expedition is the highlight of the award; Nurture students are no different.
The team took part in practice expeditions at National Trust's Attingham Park in Shrewsbury. They also completed sensory walks around the College's Woodland Walk.
Students are encouraged to use trangias for camp cooking and making hot chocolates. Even students who are peg-fed and nil by mouth, enjoy exploring equipment and the self esteem gained from making a drink for a friend.
They completed their DofE challenge on an expedition on the Llangollen Canal, near Ellesmere. Supported by the Lyneal Trust – who provide accessible journeys and breaks for people with disabilities – we enjoyed a sunny trip on canal boat the Shropshire Lady. Students could follow the route on a three-dimensional map created by the College's IT team. For this, the first expedition, they were not able to do an overnight stay, due to complexities in care. The Lyneal Trust provide holidays for people with disabilities, and this is the first time they have worked specifically with people with PMLD.
75 students enrolled on DofE
The Duke of Edinburgh's Awards are a popular extra-curricular activity for many Derwen students. We have 75 students enrolled on Bronze, Silver and Gold this year. Just this month, a phenomenal 23 Derwen College students and graduates were invited to celebrate achieving Gold Awards at a Reception at Buckingham Palace.
This was the first time that the college had trialled the experience with students on the Nurture programme.
Nurture lead, Bev Simmonds, said: "We are determined to give students in Nurture the same opportunities as all our students, whenever we can.
"We have worked creatively to ensure that students are immersed in all the experiences on a sensory level. We have made sensory stories to follow, and prepared students for what they will see, hear and feel.
"IT have created 3-D sensory maps so that students can feel the outline of the woodland walk and of the canal route.
"Thank you so much to Lyneal Trust for helping make this happen.
"DofE Awards are not something we've done overnight but have always been part of the ambitious plans for nurture.
"It's important not to wrap students in cotton wool and support them to become more resilient. "We were lucky with the weather, but were determined to go whether it was raining or not.
"For camping, being uncomfortable is par for the course. It was important for students to get the feeling of camping, and the feel of the floor, which is not comfortable.
"I'm very proud of how students and staff have worked together to achieve this award."
Derwen Duke of Edinburgh's Awards manager, Steve Evans, said: "We are committed to making sure that every student, who would benefit from the DofE scheme, is supported to participate if they would like to. Derwen is one of the first specialist colleges to run the DofE awards for students with PMLD. We hope that students and staff have found the experience enjoyable, fulfilling and rewarding. And look forward to celebrating their success at the College's Duke of Edinburgh's Awards Celebration on 9 July."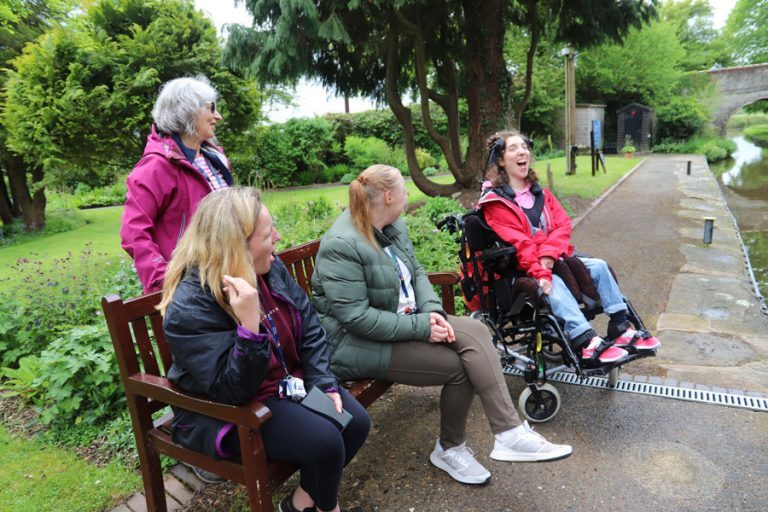 ---