Now, she adds Derwen College students to the list of stars she's worked with.
As part of a new Digital Skills unit at College, Digital Skills teacher Dave Robinson has launched a series of '10 Questions With …' video interviews.
We are thrilled to announce that the first one is with actress Caroline Goodall. Caroline has starred in The Princess Diaries, Hook and Schindler's List.  Her film with Derwen College is now also shot, edited and ready to view.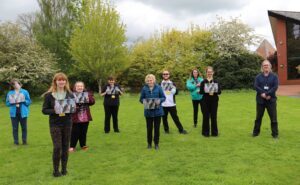 Students were asked to submit their questions to this fascinating actress, who has 30 years' worth of remarkable stories to tell.
Caroline was a joy to interview. She also sent each student involved in the project a signed photograph from Hook, in which she played Peter's wife.
Thank you to Caroline for being so generous with your time and gifts. And, thanks to all the students for their brilliant questions.
We can't wait to see her new film,
The Islander,
which will hopefully be out soon.
What is Digital Skills?
Digital Skills at Derwen College covers: using devices and handling information, being safe and responsible online, transacting, communicating. There is a focus on creating and editing.
Digital Skills is involved with all our learning pathways, and gives students the ability to transform some of their unique and exciting ideas into audio, video and photographic projects for everyone to enjoy.
---