As you wander down the corridor, past the well-appointed bedrooms, you may be mistaken for thinking that you have walked into the one of the latest Premier Inn hotels.
In fact you are in Hotel 751, the Premier Inn Training Centre on site at Derwen College.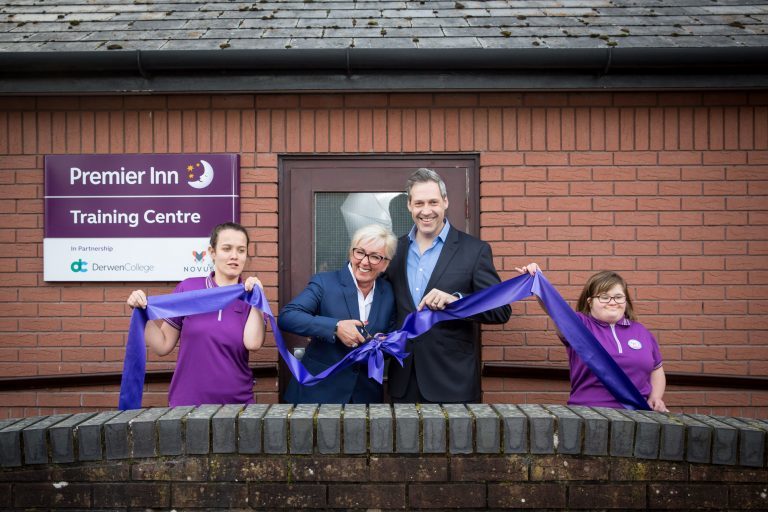 The Training Centre is the first of its kind in the country. It consists of a reception area, three en-suite bedrooms and a linen room. Hotel 751 creates a real-life work setting for our students. Here they will learn housekeeping skills whilst accessing invaluable work experience placements at local Premier Inn hotels.
The Hotel opened in January 2017 as the result of partnership work between Derwen College, Premier Inn and Novus Property Solutions (the company who build and fit out Premier Inn hotels).
This amazing training facility enables increased numbers of students to access industry standard training in hospitality. It will, ultimately, improve their chances of gaining employment after college.
Partnership working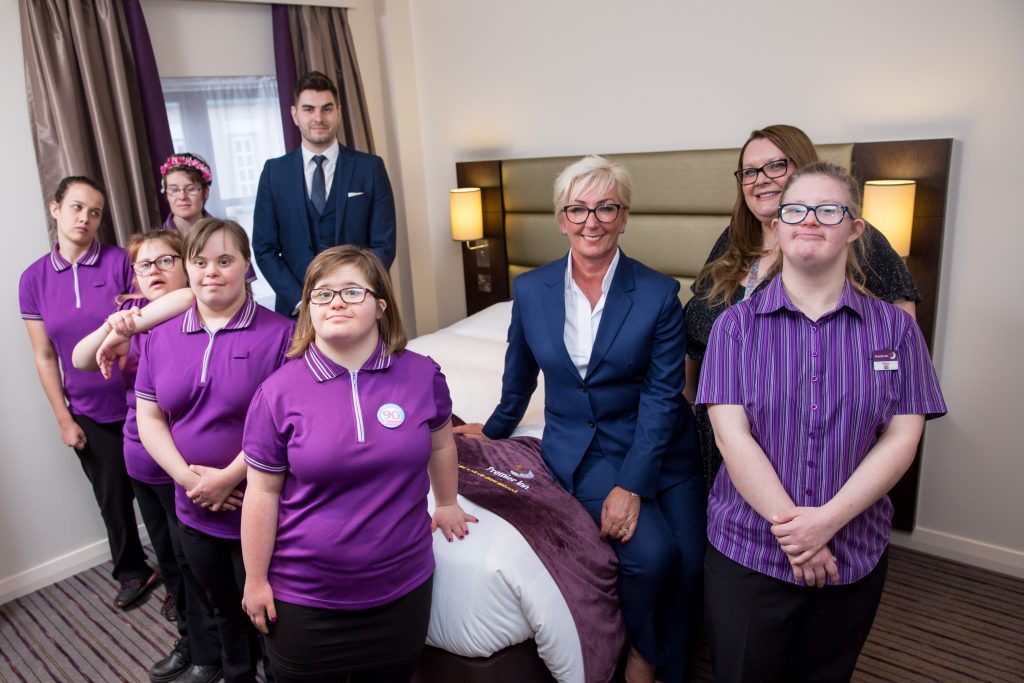 Premier Inn have been working with Derwen College since 2013. A partnership has formed where students from the College access local Premier Inn hotels for work experience opportunities.
The aim is for students to take up work placements with the chain when they have finished college.
A bedroom on the college site was converted in to a Premier Inn training room in September 2014 . The room allowed the college to maximise work experience opportunities for students. Hospitality students were able practice the routine before they started work experience placements at local Premier Inn hotels.
This new development though has taken the training facilities to a higher level. As you walk through the reception door of the Training Centre you are transported to a hotel setting.
Tracey Bishop – Premier Inn Area Manager for West Lancashire and the Lake District said
"The new programme will make a real difference to many lives. Derwen College will provide somewhere within their own community for them to learn valuable life skills, improve their confidence and build self-esteem.

"The partnership between Premier Inn, Derwen College and Novus demonstrates how industry and education can work together for the benefit of everyone. We have been amazed by the generosity and willingness of all of those who have contributed."
Neil Hand, Managing Director of Novus Property Solutions said
"We are very proud to have played our part in this worthwhile project. Our team showed no hesitation in giving their time and skills to create this fantastic new training facility which will help to give training, skills and the confidence to the pupils attending to enable them to fulfil their potential. We wish everyone who attends this facility the best of luck and hope that they enjoy training here as much as we enjoyed helping to create it".
---